Chocolate twister bread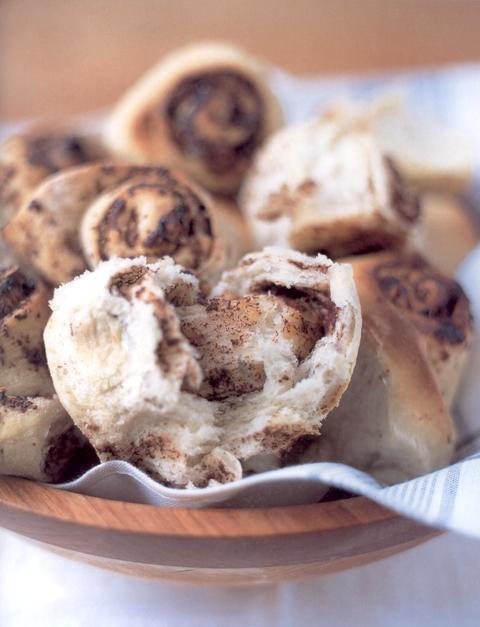 This delicious chocolate bread from Jamie Oliver requires a little patience but the smell of freshly baked bread wafting through the house makes it more then worth while.
For basic bread recipe:
30g fresh yeast or 3 x 7g sachets dried yeast
30g honey (or sugar)
625 ml tepid water
1 kg strong bread flour
30g salt
Some extra flour for dusting
For chocolate filling:
200g soft butter
200g hazelnuts, lightly roasted and crushed or broken up
310g chocolate (70 % cocoa), the best you can get, smashed up or grated
Dissolve the yeast and honey in half the tepid water
On a clean surface or in a large bowl, make a pile of the flour and salt. Make a well in the centre and pour in all the dissolved yeast mixture. With 4 fingers of one hand, make circular movements from the centre moving outwards, slowly bringing in more and more of the flour until all the yeast mixture is soaked up. Then pour the other half of the tepid water into the centre and gradually incorporate all the flour to make a moist dough. (Certain flours may need a little more water, so don't be afraid to adjust the quantities)
Kneading! This is the best bit, just rolling, pushing and folding the dough over and over for 5 minutes. This develops the gluten and the structure of the dough. If any of the dough sticks to your hands, just rub them together with a little extra flour.
Flour both your hands well, and lightly flour the top of the dough. Make it into a roundish shape and place on a baking tray. Deeply score the dough with a knife-allowing to relax and prove with ease. Leave it to prove until it's doubled in size. Ideally you want a warm, moist, draught-free place for the quickest prove, for example near a warm cooker, in the airing cupboard or just in a warmish room, and you can even cover it with clingfilm if you want to speed things up. This proving process improves the flavour and texture of the dough and should take about 40 minutes, depending on the conditions.
When the dough has doubled in size, you need to knock the air out of it by bashing it around for a minute. Then, divide the dough into 2 equal parts and leave it to prove for a second time until it doubles in size again. After proving, take each piece of dough and push out into a squarish shape on a floured board. Then roll out to about 17cm/ 7 inches wide. At this point, roll the other way and keep rolling to achieve a long rectangle about ¼ inch thick-it doesn't have to be exact. Using a knife spread the butter thinly across the dough. Sprinkle over the hazelnuts and chocolate and roll up across the width like a Swiss roll. Cut across into 1inch wide slices. Place the slices next to each other on a greased baking tray, cut side upwards (rather like Chelsea buns), with small gaps in between. Bake in a preheated oven at 200oC/400oF/Gas 6 for around 20 minutes. Allow to cool for 20 minutes before eating with a glass of cold milk.
Main ingredients
Flour, Chocolate
Recipe Type
Bread, Cakes & Baking, Breakfast
Level of Difficulty
Moderately Easy
Other recipes you may like
Trending and Sponsored