Christmas yule log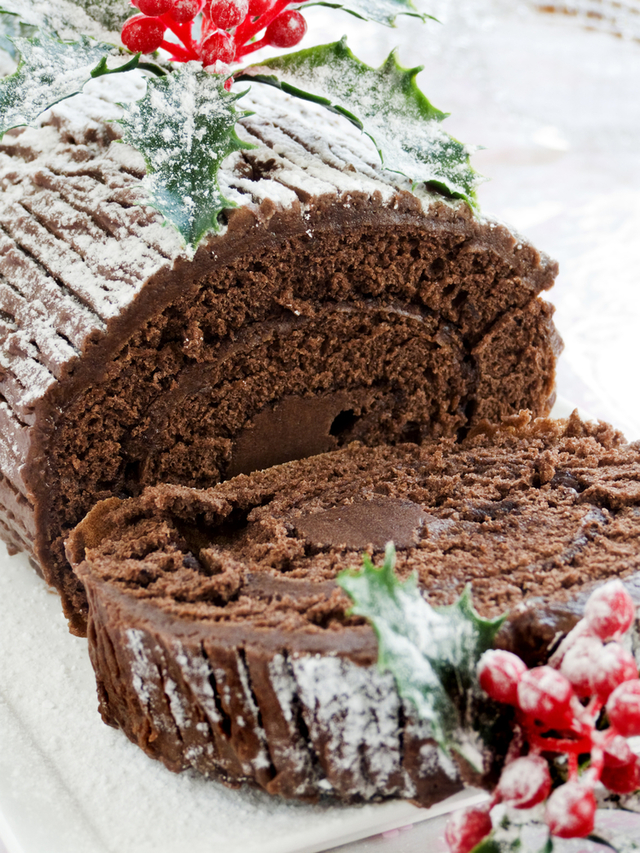 For the cake:
3 eggs - separated
Pinch of salt
75g caster sugar
75g plain flour
1 level tsp baking powder
2 tbsp cocoa
Filling & icing:
100g butter
300g dark chocolate - broken in pieces
2 tbsp golden syrup
150ml cream
450g icing sugar - sieved
To decorate:
Icing sugar and holly
Preheat the oven to 200°C/400°F/Gas 6. Grease and line a swiss roll tin 28cm x 18cm with greaseproof paper.
Using a spotless bowl, add the eggs whites and the pinch of salt and beat until the mixture is stiff.
In a separate fresh bowl, beat in the egg yolks and the sugar until a thick ribbon like trail remains from the beaters.
Sieve in the cocoa, flour and baking powder together and add gradually to the egg mixture folding it in with a large metal spoon. Finally, gently fold in the egg whites.
Spoon into the prepared tin and spread evenly into the corners of the tin.
Bake in the preheated oven for 10 minutes.
Take a piece of greaseproof paper which is bigger than the swiss roll tin, set on a work surface and dust with caster sugar.
Remove the cake from the oven and turn it onto the waiting greaseproof paper. Remove the lining greaseproof paper. Roll the cake up into the shape of a swiss roll, from its longest edge with the greaseproof paper inside. Allow to cool, while still wrapped in the shape of a swiss roll.
To make the icing:
Melt the butter and chocolate in a bowl over a saucepan of hot water. Remove from the heat and stir in the golden syrup and the cream. Beat in the icing sugar until smooth.
Unroll the cake, removing the paper and spread half of the icing on the top of the cake.
Carefully roll up again into a log shape.
Spread the remaining icing on the outside of the log and use a fork to mark the icing to give it a 'tree effect'.
Dust with icing sugar and decorate with holly.
Preparation Time
40 minutes
Cooking Time
10 minutes
Main ingredients
Flour, Chocolate, Eggs
Recipe Type
Cakes & Baking
Cuisine
American
Special Info
Nut free
Level of Difficulty
Easy
You could cut a thick diagonal slice from one end of the log and then arrange the slice on the side with the diagonal cut against the cake to make a "branch". You should transfer the un-iced cake to your serving plate before you do this.
Other recipes you may like
Trending and Sponsored