Cinnamon rolls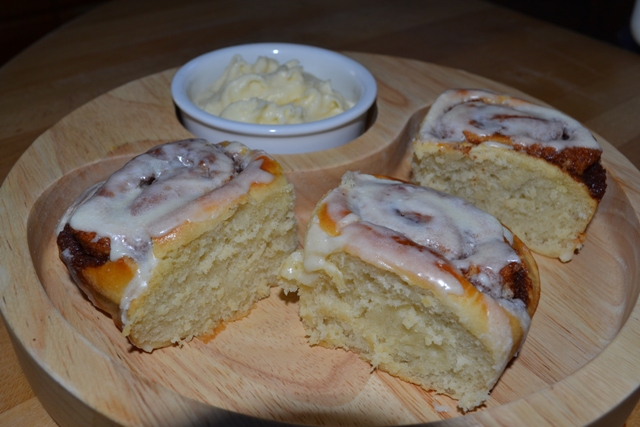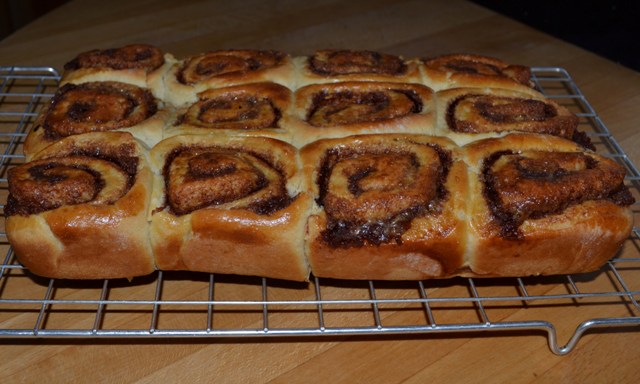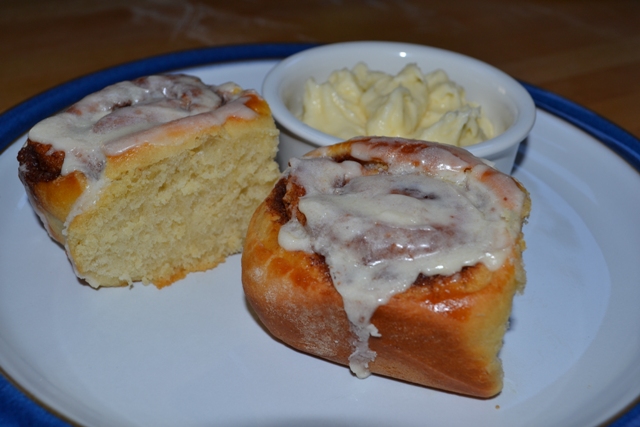 These do take a lot of time and effort but if you are trying to make an impressive breakfast then these are sure to be a big hit.
Cinnamon Roll Dough
60ml water
240ml whole milk
115g butter (preferably unsalted)
½ tsp salt
115g caster sugar
14g yeast
2 small eggs, room temperature, well beaten
1 tsp pure vanilla extract
570g strong white flour
110g butter at room temperature
Brown Sugar and Cinnamon Filling
200g light brown sugar
45g ground cinnamon
To make the cinnamon roll dough:
Gently melt the butter over a low heat, using a small saucepan. Be careful not to let the butter boil.
Pour in the milk and water and allow the mixture to cool a little but don't allow it cool too much as it must be warm to active the yeast.
Pour the butter mixture into the bowl of your electric mixer which should be fitted with a paddle attachment.
Add in the dried yeast, sugar and salt and mix well.
Mix in the eggs, vanilla extract and flour.
Beat in your mixer on low speed for 3 minutes. You should stop it occasionally to scrape down sides of bowl.
Next you will need to switch from paddle attachment to a dough hook attachment. This will knead the dough – turn it onto a medium speed until smooth which will take approximately 9 minutes.
Once complete, remove the dough from the bowl and form a ball.
Lightly oil a large bowl with vegetable oil (like rapeseed or sunflower oil) or non-stick spray. Place the ball of dough in the bowl turning it around to fully coat. Cover the bowl with cling film and then a kitchen towel. Allow the dough rise in a warm, draft-free area until doubled in volume which will take around 2 hours.
Once you have made the dough (and before you set it aside to rise), take the butter out of the fridge and allow it to come to room temperature.
In a small bowl whisk the brown sugar and cinnamon together. If there are any lumps in the brown sugar, use a fork or your finger tips to break them apart.
Assembling the cinnamon rolls
Take the dough from its resting position and punch it down.
Next transfer dough to lightly floured work surface.
Line three 20-cm square baking tins with greaseproof paper (by using square cake tins, the finished rolls will be moist and soft. It is possible to use baking sheets however the outer edges of the rolls will create a harder, baked edge).
Using a rolling pin, roll out the dough to a 38 cm X 61 cm rectangle shape. (If you would prefer, you can divide the dough into two and roll each part out separately.
Using a knife, mark a border on the 61-cm edge of the dough which is nearest you.
Using a large knife spread the butter over the dough – do not spread the butter on the 2.54-cm (1-inch) border edge (so that you can seal the roll).
Sprinkle the cinnamon sugar mixture over butter, making sure not to sprinkle on border edge. You need to (try and keep) the border clean. Take your rolling pin and lightly roll the cinnamon sugar mixture.
Starting at the far edge of the dough, roll the dough up towards you, forming a tight log. Pinch it gently to keep it rolled up stopping just shy of the border edge. Using a pastry brush, brush a little milk on the border edge and then continue to roll dough to seal shut.
Using a sharp knife, trim the left and right ends of the log.
With the seam side down, cut the log every 3.5cm (for small rolls) or 5-cm (for larger rolls). with a sharp knife.
Divide rolls between baking tins placing them spiral side facing up with around 2-3 cm between them
Cover baking tins with cling film and then a lawyer of kitchen towel. Allow it rise in a warm place until almost doubled in volume, around 1 hour. After rising, the rolls will be touching each other and the sides of the cake tin. This will give the rolls a soft and moist outer edge.
Bake in a preheated oven 190°C/375°F/Gas 5 for about 15 minutes.
Remove from the oven and allow to cool a little before icing (if using).
Ice the rolls while they're still very warm and serve immediately.
Preparation Time
180 minutes
Cooking Time
15 minutes
Main ingredients
Dairy, Flour
Recipe Type
Bread, Cakes & Baking, Breakfast
Cuisine
American
Special Info
Nut free, Pregnant Mums
Level of Difficulty
Hard
Other recipes you may like
Trending and Sponsored