Coffee cake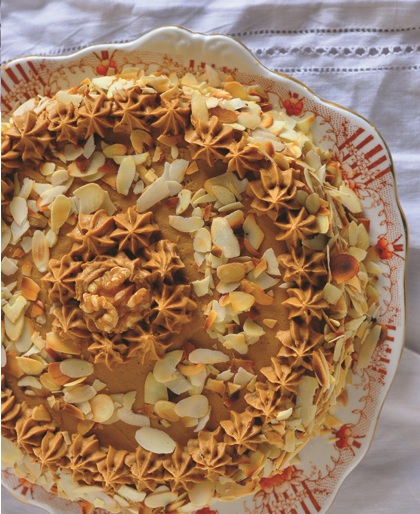 There's nothing like coffee cake. A slice of this with a cup of coffee is absolutely gorgeous and inexplicably nostalgic (even though I never ate it as a child!). It's very easy to make – if you're going to bake a cake for someone as a present, then this is the one! I usually make a strong espresso from the coffee machine and use that for the cake and icing, but granules or coffee essence work perfectly too
For the cake:
180g butter, softened
100g caster sugar
80g Demerara sugar
3 eggs
180g plain flour
1 tsp baking powder
2 tbsp espresso or strong coffee
For the icing
350g icing sugar, sieved
150g butter, softened
2 tbsp espresso or strong coffee
200g flaked almonds, toasted, to decorate
Preheat the oven to 180°C. Butter and flour 2 x 20cm sandwich cake tins.
Cream the butter and sugar together in a bowl until light and fluffy. Add the eggs one by one, mixing well after each addition.
Sieve the flour and baking powder together in a bowl, then fold into the egg mixture.
Mix in the coffee until everything is just combined. Divide the batter between the tins. Bake for 25–30 minutes, until an inserted skewer comes out clean. Leave to cool in the tins for a few minutes before turning out onto a rack to cool fully.
To make the icing, cream the sugar and butter together in a bowl until fluffy. Add the coffee and mix until well combined.
Place one cake on a serving plate and cover with icing. Top with the second cake and cover the whole cake, top and sides, with a thin layer of icing. This is your crumb layer – it is used as a base layer of icing and you can then spread more icing over this layer, so don't worry if some crumbs get mixed up in the icing.
Fill a piping bag with the remaining icing and use to decorate the cake, or just spread the icing generously all over the cake with an offset spatula. Carefully cover the sides with the flaked and toasted almonds.
Serves
8-10
Cooking Time
25 minutes
Main ingredients
Flour
Recipe Type
Cakes & Baking, Entertaining, Cake Stall
Level of Difficulty
Easy
Other recipes you may like
Trending and Sponsored