Drizzle cake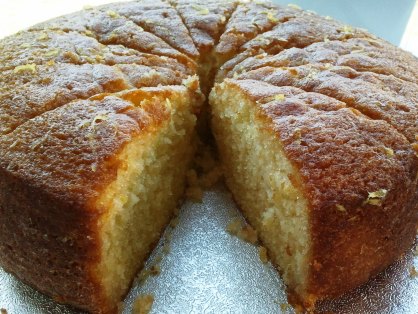 Ingredients
Milk – 60g
Egg – 200g
Vanilla essence – 5g
Lemon Zest – 3g
Plain Flour – 200g
Caster Sugar – 200g
Baking Powder - 8g
Butter (Softened) – 240g
Syrup
Caster Sugar – 50g
Lemon Juice – 40g
Method
Place the milk, egg and vanilla essence in a mixing bowl and whisk together.
Place the flour, caster sugar and baking powder in a separate bowl and mix well together – use a hand whisk for this task.
Add the softened butter to dry ingredients and blend in by hand.
Add 50% of liquid mixture to above and whish on 1st. speed (use electric mixer)
Add remainder of liquid mixture and whisk until the mixture is smooth (use electric mixer)
Deposit the batter into baking parchment lined baking shapes (1lb size) at 450g each.
Bake at 180º C for 45 minutes.
While still hot paint with syrup.
Syrup
Place the caster sugar and lemon juice in a saucepan and heat to near boiling – apply to cake
Main ingredients
Flour, Eggs
Recipe Type
Cakes & Baking, Cake Stall
Other recipes you may like
Trending and Sponsored