Garden bug cupcakes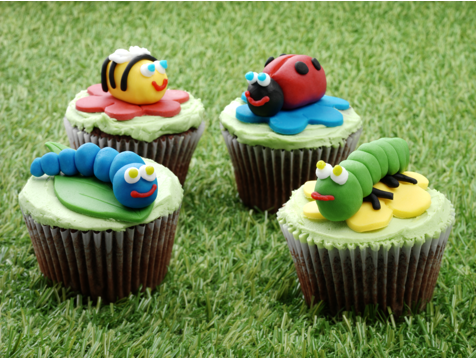 These cupcakes are deliciously chocolately - the little ones will just love them!
Dr. Oetker Bright Writing Icing (Enough to decorate)
For the cupcakes:
Dr. Oetker Muffin Cases (x12 Muffin Cases)
125g margarine (4 1/2 oz of baking margarine softened)
125g caster sugar (4 1/2 oz)
Large eggs (x2)
125g plain flour (4 1/2 oz)
Dr. Oetker Fine Dark Cocoa Powder (x1 sachet, 25g or 1oz)
Dr. Oetker Baking Powder Sachets (x2 sachet/10g or 2tsp)
Dr. Oetker Milk Chocolate Chips (x1 packet/100g)
To decorate:
125g unsalted butter (4 1/2 oz, softened)
225g icing sugar (8 oz)
2 ½ ml Dr. Oetker American Peppermint Extract (1/2 tsp)
Dr. Oetker Lime Green Gel Food Colour (x1 tube (10g)
Dr. Oetker Coloured Ready to Roll Regal-Ice
Dr. Oetker White Designer Icing (Enough to decorate)
Preheat the oven to 180˚C (160˚C fan assisted oven, 350˚F, gas mark 4). Put the Muffin Cases in 12 muffin tins. Put the margarine in a mixing bowl, add the caster sugar and eggs. Sift the flour, Cocoa and Baking Powder on top and using an electric whisk on a low speed, gently blend the ingredients together. Increase the mixer speed and whisk for a few more seconds until well mixed. Stir in the Chocolate Chips.
Divide the mixture equally between the cases and smooth over the tops. Bake for about 25 minutes until risen and just firm to the touch. Transfer to a wire rack to cool.
To decorate, put the butter in a bowl and beat until smooth and glossy. Gradually sift and beat in all the icing sugar until creamy and soft and add the Peppermint Extract. Mix in the whole tube of Green Colour Gel. Thickly spread the icing on top of each cupcake. .
Soften each colour of Ready to Roll Icing by kneading gently to make pliable and easier to use. Use the different colours to make blue caterpillars, green grubs, ladybirds and bees. Roll different size balls of Icing to make segmented body shapes, keeping them rounded or squeeze together for a more compact body shape. Use chunkier pieces of Icing to make the bodies for the ladybirds and bees. Use the Black Icing for ladybird heads and spots, bee stripes and grub legs. Make 3 of each bug.
Roll out the remaining Green, Blue, Red and Yellow Icing thinly and cut out 3 leaves from the Green and then flower shapes from the rest. Lay the leaves and flowers on top of the cupcakes and then arrange the bugs on top. Use Designer Icing to pipe eyes and wings, and use the Writing Icing Colours to add detail to the faces. Your cupcakes are now ready to serve and enjoy!
Serves
12
Preparation Time
20 minutes
Cooking Time
25 minutes
Main ingredients
Dairy, Flour, Chocolate, Sugar
Other recipes you may like
Trending and Sponsored