Gluten-free french baguettes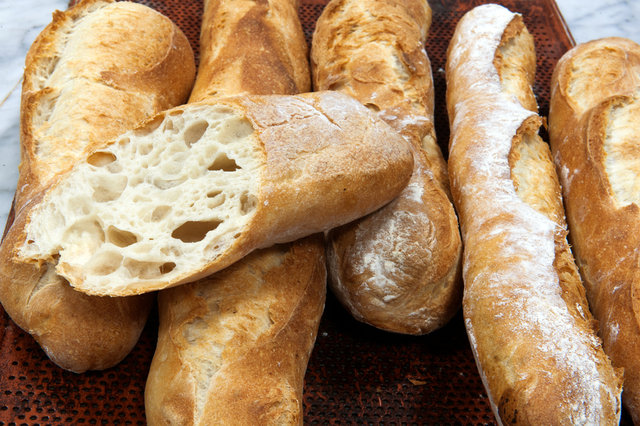 Nothing beats a baguette for rustic lunch sandwiches or dunking into soups.
550g gluten-free white flour plus a little extra
1 tsp salt
¾ tsp dried yeast
350ml hot water
Line and grease a baking tray with oil and set aside.
In a bowl, add and combine together the flour, salt and yeast.
Mix thoroughly then make a well in the centre and add the water.
Mix well using a spatula or wooden spoon then your hands adding water if necessary.
Continue to mix and press the dough in the bowl for about 1 minute so that the dough is evenly mixed (it will feel little sticky but that's fine).
Cover the bowl of dough tightly with cling film and a tea towel, place in a warm place until it doubles in size. About 2 hours.
Once it has proved, lay it out onto a floured surface and punch out the air. Divide evenly in two.
Next roll one piece into a sausage shape about 40cm long and use the palms of your hands to flatten it out to about 12cm wide all the way along.
Now fold one long edge of dough into the centre, pressing it down with your fingertips and do the same with the other long edge.
Turn the roll over so that the seam is underneath and wrap with cling film.
Repeat with the second piece of dough.
Allow to sit for 1 ¼ hours at room temperature.
Preheat the oven to 230°C / 450°F / Gas mark 8.
Position a shelf in the top third of the oven for the bread and place a roasting tin in the oven on a lower shelf.
When the baguettes have risen, put a kettle on to boil. Then remove and slash each stick diagonally with a sharp serrated knife, then dust the loaves with flour.
Place them near the top of the oven, and then pour boiling water into the hot roasting tray below about 2cm deep.
Bake them for 25 minutes then turn the loaves over and give them a further 5 minutes.
Cool before slicing.
Serves
Makes 2 bagueets
Preparation Time
25 minutes
Cooking Time
30 minutes
Main ingredients
Flour
Recipe Type
Bread
Special Info
Gluten free
Level of Difficulty
Moderately Easy
Other recipes you may like
Trending and Sponsored