Greek yoghurt panna cotta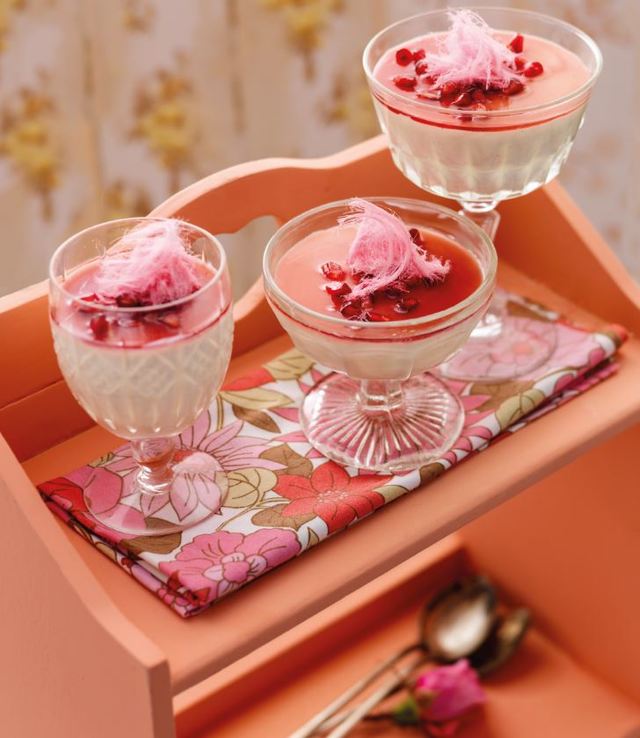 This delicate-flavoured dessert uses Greek yoghurt in addition to the usual cream, making for a lighter, more refreshing pannacotta. It also removes the need to reduce the mixture on the hob. Rosewater is readily available in supermarkets or Middle Eastern stores, and gives a distinctive 'Turkish delight' flavour. Omit if you prefer – the flavour of the syrup will still be good. Choose a ripe pomegranate to ensure it has lots of rich ruby red juice; you'll usually find that the darker the skin colour, the riper the pomegranate. Persian candy floss (or pashmak) comes in vanilla (white) or rose (pink) and can be picked up in Asian, Middle Eastern or speciality food stores. Alternatively, use regular shop-bought candy floss.
2 gelatine leaves
200ml double cream
2 tbsp clear honey
200ml Greek yoghurt
Seeds from 1 vanilla pod or 1 tsp vanilla bean paste
1 pomegranate
Small handful of Persian candy floss (optional)
Small handful of fresh (unsprayed, organically grown) or dried rose petals (optional)
Rose syrup:
2 tbsp clear honey
½ tsp rosewater
Essential kit:
Kettle
4 x 125ml glasses, jelly moulds, darioles or mini pudding basins
Put the kettle on to boil, about a quarter full. Place the gelatine in a small bowl and pour over enough cold water to cover. Leave to soak for 5 minutes until soft.
Meanwhile, pour the cream into a large jug and whisk in the honey until dissolved. Whisk in the Greek yoghurt until smooth. Add the vanilla seeds or bean paste, stir to blend and set aside.
Halve the pomegranate and scoop the seeds and juice out into a small bowl. Drain the juice into a separate small bowl and set both aside (there should be at least 1 tablespoon of juice).
Once soft, drain the gelatine and squeeze excess water from it. Return to the bowl and pour 1 tablespoon of just-boiled water over, stirring until dissolved. Leave to cool to room temperature.
Meanwhile, make the syrup for serving. Mix the honey, rosewater and 1 tablespoon of the pomegranate juice together in a small bowl until well blended, and set aside for serving. Any
remaining pomegranate juice is the cook's treat.
Once the gelatine solution has cooled, stir it into the pannacotta mixture until well blended. Divide the mixture evenly between the serving glasses or moulds. Cover and chill in the fridge for at least 3 hours or overnight, until set.
If in moulds, run the outside of the moulds under hot water for a few seconds and then carefully turn them out onto serving plates.
If in glasses, set them on a serving plate. Spoon the rosewater syrup over the top and scatter with the pomegranate seeds. Sit a little pile of Persian candy floss on top, if using.
Scatter with rose petals, if using, and serve at once.
Serves
4
Preparation Time
180 minutes
Main ingredients
Dairy, Honey
Recipe Type
Party Food, Cakes & Baking, Entertaining, Family Dinners, Cake Stall
Special Info
Gluten free
Level of Difficulty
Easy
Recipes extracted from The No-Cook Cookbook by Sharon Hearne-Smith (Quercus); i
mages are © Cristian Barnett.
The cookbook will be available in stores from Thursday, 2nd June 2016.
Other recipes you may like
Trending and Sponsored