Hazelnut swirl cookies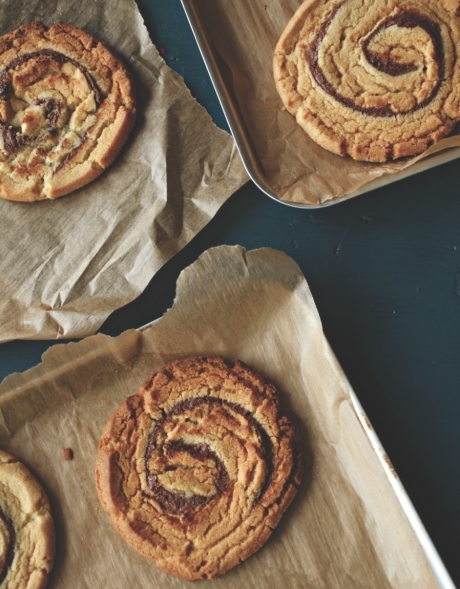 300g (10 ½ oz) plain flour
1/4 teaspoon salt
1/2 teaspoon bread soda (bicarbonate of soda)
225g (10oz) butter, at room temperature
225g (10oz) caster sugar
2 egg yolks
1 teaspoon vanilla extract
A jar of Nutella
Sift the flour, salt and bread soda into a bowl.
Cream the butter and sugar in a large bowl with an electric beater, until pale and fluffy. Add the egg yolks and vanilla extract and mix until combined. With the mixer on low, add the flour mixture a little at a time, until it's fully combined and the mixture becomes a soft dough.
Transfer the dough to a lightly floured board and shape it into a rough square. Wrap it in cling film and refrigerate for about 30 minutes.
Preheat the oven to 180°C/350°F/gas 4. Line a few baking sheets with parchment paper.
Remove the dough from the fridge, discard the cling film and tip the dough onto a large sheet of lightly floured parchment paper. Lay a fresh sheet of cling film on top of the dough and use a rolling pin to roll the dough into a rough rectangular shape of 1–2cm thickness. If you don't have a rolling pin, you can shape the dough using your hands over the cling film. Once the dough is shaped, discard the cling film.
Dip a knife into a mug of hot water, then into the jar of Nutella (this will help loosen the Nutella). Spread Nutella generously on top of the dough, leaving a 1 cm edge untouched all around.
Using the parchment underneath the dough as a guide, roll the dough into a tight log (ensuring the parchment paper doesn't catch). Cut the log into 1 cm slices (or thicker if you like).
Arrange the cookie dough slices on the lined baking sheets. Ensure they are well spaced, so that they have room to spread out in the oven.
Bake for 10–12 minutes, until lightly golden. The Nutella swirls will look amazing at this stage!
Leave the cookies to cool on the trays for a few minutes, before transferring them to a wire rack.
Enjoy with a cup of tea, or dig out the vanilla ice cream for a yummy dessert!
Serves
Makes 10-12 big cookies
Main ingredients
Dairy, Eggs
Recipe Type
Cakes & Baking, Dessert, Easy, Kids Food, Cake Stall, Cookies & Biscuits
Special Info
Vegetarian
Level of Difficulty
Easy
Other recipes you may like
Trending and Sponsored