Margates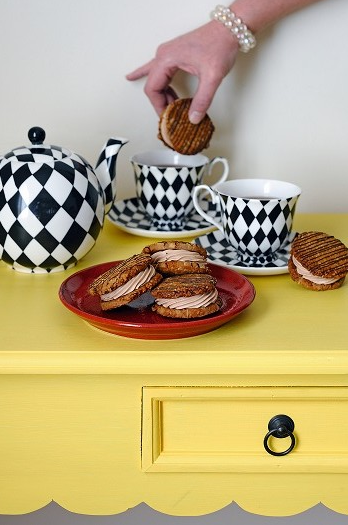 A salute to the great Kingston biscuit — another Australian favourite, consisting of two coconut biscuits sandwiched around a chocolate centre. Our version is slightly better; that's why it was given the name Margate. If you live in Tasmania, you will know why, but for the rest of you, it simply comes down to postcode: the little southern coastal town of Margate is just a few miles from the town of Kingston, but is considered way better.
130g butter
1 tbsp golden syrup or honey
230g sugar
120g desiccated (shredded) coconut
120g rolled (porridge) oats
2 tsp vanilla extract
2 tsp bicarbonate of soda (baking soda)
175g pastry flour, sifted
A pinch of sea salt
Creamy vanilla frosting

Ganache
150g dark chocolate, chopped
150ml thin (pouring) cream

Preheat the oven to 180ºC / 350ºF / Gas Mark 4.
Line two baking trays with baking paper.
In a large saucepan, gently melt the butter and golden syrup, then add the sugar, coconut, rolled oats and vanilla.
Dissolve the bicarbonate of soda in 2 tablespoons of boiling water, then add to the butter mixture. Add the sifted flour and salt and mix well.
Roll into 24 small balls and place on the baking trays, allowing room for the biscuits to spread and flatten during cooking.
Bake for 10–15 minutes, or until golden and cooked through. Remove from the oven and cool on the trays.
To make the ganache, put the chocolate in a heatproof bowl. Bring the cream to the boil in a small saucepan and pour over the chocolate.
Leave to melt for 2 minutes, before mixing to a smooth, shiny ganache.
Add 150g of the ganache to the frosting, to make a chocolate frosting.
To assemble the biscuits, pipe a ring of chocolate frosting around the edge of half the biscuits. Place a spoonful of ganache in the centre and pop a lid on top.
The biscuits will keep in an airtight container in a cool dark place for up to 1 week.
Serves
makes 12 biscuits
Preparation Time
15 minutes
Cooking Time
15 minutes
Main ingredients
Dairy, Flour, Honey
Recipe Type
Cookies & Biscuits
Level of Difficulty
Moderately Easy
Extracted with permission from Sweet Envy by Alistair Wise and Teena Kearney-Wise, published by Murdoch Books.
Other recipes you may like
Trending and Sponsored