Honey and walnut 'three-bites' pies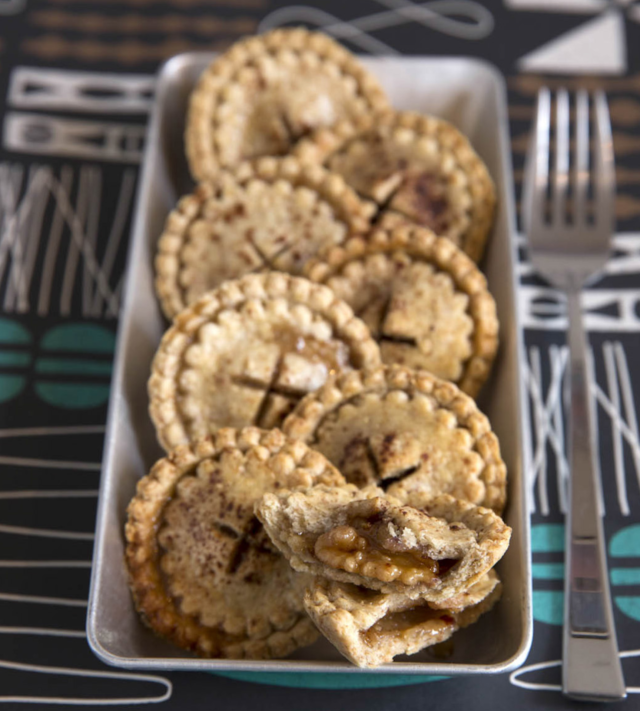 This pastry is chunky and wholesome enough to stand up to the rich honey filling.
To make the pastry
50g rolled oats
170g plain flour, plus extra to dust
100g wholemeal flour
160g butter, cubed
2 tbsp sugar
1 egg, whisked with 2 tsp water
For the filling
200g runny honey
Zest of ½ a lemon
Ground cinnamon
18 walnut halves
1 egg, whisked with 1 tsp cold water, for glazing
2 X 12-hole non-stick patty tins
8.5cm-round pastry or biscuit cutter
5cm round pastry or biscuit cutter
Preheat the oven to 180°C/ 160°F/ gas mark 4. Lightly grease a 2 x 12 hole non–stick patty tin.
First make the pastry. Tip the oats and flours into a large bowl and mix well.
Add the cubed butter and rub it into the dry ingredients, until the mixture resembles coarse breadcrumbs. This pastry will be heavier than other pastry because of the oats.
Now add the sugar, mix well, then add the whisked egg and bind together until a dough forms.
Wrap the pastry in cling film and cool it in the fridge for 30 minutes.
Once your pastry has chilled, r
oll out the chilled pastry on a floured surface to the thickness of a pound coin (about 2mm).
Take the larger cutter and cut out 18 circles.
Line your patty tins with them, leaving a slight pastry overhang for each pie.
Drizzle honey into each pastry shell (but don't over-fill them or your pies may burn).
Sprinkle lemon zest and a pinch of cinnamon into each shell and place 1 walnut half in each one, to give your pies a little surprise crunch.
Roll out the remainder of the pastry until it is wafer thin, and use the smaller cuter to cut out your lids.
Egg-wash the edges, top your mini pies and pinch to seal.
Make a little hole in each pie lid to let the steam escape as it cooks. Egg-wash the tops.
Bake for 15 minutes (no more as they can easily burst and burn).
Cool on a wire rack before serving.
Serves
makes 18 mini pies
Preparation Time
40 minutes
Cooking Time
15 minutes
Main ingredients
Dairy, Flour, Sugar
Recipe Type
Cakes & Baking, Cake Stall
Level of Difficulty
Easy
Marika Gauci, The Little Book of Pies, Square Peg, £10. Photograph by Sarah Cuttle.
Other recipes you may like
Trending and Sponsored