I Can't Believe It's Not Cardboard – Thick Crust Pizza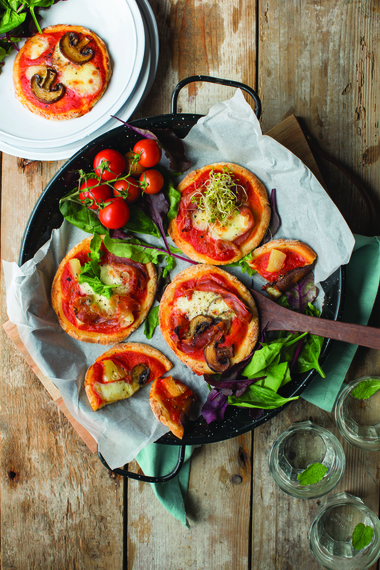 An absolute must for your family.
Base
1 cup (120g) GF self-raising flour, plus extra for rolling – Doves Farm Organic is tip top: great ingredients and no chemicals!
pinch of salt
1 cup (250g) Greek yogurt
2 tbsp olive oil
Toppings
A big handful (30g grated or ½ ball sliced) mozzarella for each mini pizza
1 cup (225g) tomato frito – a wonderful Spanish invention where they have already added the garlic and seasoning to the tomato; if your local supermarket doesn't have it, passata with some oregano, garlic powder and salt will do
2 chestnut mushrooms
2 pineapple rings in juice – not syrup, no need for that nastaay sugar
2 slices Serrano or Parma ham
Preheat the oven to 180°C.
Line 2 baking trays with baking parchment – this stops the pizzas from sticking and makes them easier to move.
Chuck the flour and salt in a big bowl. Make a well in the middle of the flour and pour in the yogurt and olive oil. Mix the lot together with a wooden spoon to make a sticky dough.
Now the fancy looking bit. Pour about ⅓ cup of flour on a big chopping board and smooth it out a bit. For non-gluey hands, quickly dust your hands with flour. I love doing this as it reminds me of 'chalking up' for weight lifting. Time to show this dough who's boss! Working with ¼ of your dough at a time, grab a chunk and drop it on the floured board. Roll it around till you have a floury ball – if the dough feels too wet just add more flour. Warning: this GF version will never be as gluey as regular pizza dough and will feel softer than you'd expect, so none of that fancy swinging it around the place!
Next, pop a ball of dough onto on side of your papered-up baking tray (you should fit two small pizzas on an average tray). Cover your rolling pin in flour to stop the dough sticking. Roll the pizza base out by moving the dough a quarter turn clockwise after each roll. This stops the dough from breaking and keeps the nice round shape. Using your hands, flatten the dough in the centre and squish the edges to create a thick-crust pizza.
Repeat till you have 2 mini pizzas for each tray. Pop the trays in the oven for 10 minutes to partially cook the dough.
For the toppings, thinly slice the mushrooms and chop the pineapple into chunks. I love Serrano ham for a little twist on the classic Hawaiian – it adds such a great flavour and you can cut thin strips using a scissors.
Take the pizza bases out of the oven, and now it's time to customise! Do you like loads of sauce? Not too much cheese? I like a good dollop of sauce, but plenty of space for plain crust that I can use for dippies later.
Spoon on your sauce, spread it out then grab a good handful of cheese and sprinkle over each pizza. Pop the bases back in the oven for 5–10 mins to let the cheese melt. After this take them out, arrange your mushrooms, pineapple and ham and pop back in for another 10–15mins till the cheese is golden brown.
Serves
2
Preparation Time
30 minutes
Cooking Time
20 minutes
Main ingredients
Cheese, Vegetables
Recipe Type
Dinner, Easy, Family Dinners, Healthy
Cuisine
Italian
Special Info
Gluten free, Nut free
Level of Difficulty
Easy
For a healthier dinner, this pizza goes great with salads and some sweet potato fries. For naughty nights, scoff two of the mini pizzas, wash down with a GF beer or a nice cider and keep your crusts for dipping in a creamy garlic mayo – 4 tbsp mayo, ½ tsp garlic powder and ½ tsp oregano.
This base works brilliantly with any combo of toppings and sauces you can dream up – think salsa instead of tomato sauce, or if cow's milk doesn't agree with you, try goat's yogurt in the base and melty goat's cheese with sundried tomatoes and artichokes as a topping.
Other recipes you may like
Trending and Sponsored