Lemon drizzle cake – Avoca's secret recipe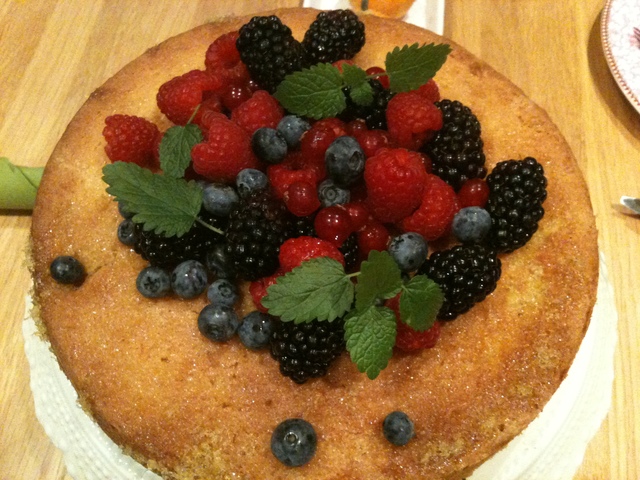 Lovely Lemon Drizzle Cake from Avoca perfect for anyone with a sweet tooth. It is a fantastic tea time treat and is so luscious served with a dollop of cream and of course a few berries from the top of the cake! The drizzle makes the cake so moist and it really keeps well for a couple of days in an airtight container.
225g unsalted butter
225g cater sugar
4 medium sized eggs, lightly beaten
225g self raising flour
½ teaspoon baking powder
35g ground almonds
Zest of 1 large lemon
Juice of 1 large lemon
225g fresh mixed berries for topping (divided in two – some for in the cake and some on top before baking)
Extra fruit to serve (if desired)
Syrup for drizzling:
Finely grated zest and juice of 2 lemons
175g caster sugar
Preheat the oven to 150°C/ 300°F/ Gas 2.
Lightly grease and line a 23cm springform tin using greaseproof paper.
Cream the butter and sugar in a large bowl until pale and fluffy.
Gradually add the eggs, then fold in the flour, baking powder and ground almonds.
Fold in the juice and zest of the lemons and half of the fruit – approximately 115g approx.
Spoon the mixture into the tin and top with the remaining fruit.
Bake for 60 minutes – allow to cool in the tin for 10 minutes. Remove the cake from the tin and transfer it to a wire rack.
Mix the zest and lemon juice for the topping with the sugar in a small saucepan.
Heat enough to dissolve the sugar. Pour over the cake while it is still warm so then the syrup seeps into the cake.
When the cake has cooled, top with extra fruit to serve.
Preparation Time
20 minutes
Cooking Time
60 minutes
Main ingredients
Flour, Fruit, Eggs
Recipe Type
Cakes & Baking, Entertaining
Special Info
Pregnant Mums
Level of Difficulty
Easy
If you are baking without fruit, sprinkle some caster sugar over the top of the cake after pouring the syrup over the top of the cooked – this will give a pleasant bite and appearance
Our recipe tester pricked the top of the cake with a skewer several times before she took it out of the tin so that the drizzle would run down into the cake. Worked a treat and made the cake so much more tastier and made good use of all of that lovely drizzle.
Other recipes you may like
Trending and Sponsored