Mini Christmas cakes with star toppers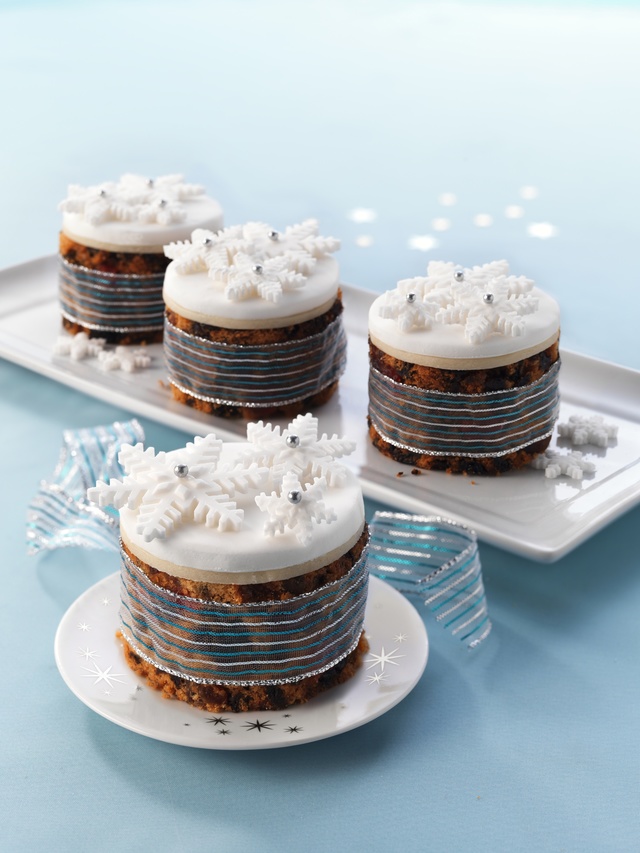 175g (6oz) butter or margarine
175g (6oz) light brown sugar
3 medium eggs, beaten
1 tsp Dr. Oetker Natural Almond Extract
75g (3oz) ground almonds
175g (6oz) plain flour
¼ tsp ground nutmeg
1 sachet (1 tsp) Dr. Oetker Baking Powder
300g (10oz) sultanas
175g (6oz) dried cranberries
150g (5oz) glace cherries
Icing sugar for dusting
To decorate:
150g (5oz) Dr. Oetker Regal-Ice Ready to Roll White Icing
200g (7oz) Dr. Oetker Ready to Roll Marzipan
2 tsp clear honey
Dr. Oetker Soft Silver Pearls
4 x 25cm (10in) lengths cake ribbon
Star shaped cutter
Place a roasting tin of cold water in the bottom of the oven then preheat the oven to 150°C (140°C Fan, Gas Mark 2). Grease and line a 19cm (7in) square cake tin, and wrap the sides in a double layer of brown paper. In a mixing bowl, cream the butter or margarine and sugar together until pale and creamy then gradually beat in the eggs, and stir in the Natural Almond Extract and ground almonds.
Sift the flour, nutmeg and Baking Powder on top and add all the fruit. Carefully mix all the ingredients together and then spoon into the prepared tin. Smooth over the top and bake in the oven for about 1 ½ hours until lightly browned, slightly risen and firm to the touch. Allow to cool in the tin before removing. Discard the tin linings and wrap in fresh paper and foil and store for 3 days before decorating.
When ready to serve the cakes, discard the storage wrapping from the cake. Using a 7cm (3in) round pastry cutter, push down on top of the cake within 1cm (1/2in) of the edge to make 4 circles – you may need to trim up the edges with a knife.
Divide the Marzipan into 4. On a work surface lightly dusted with icing sugar, roll each piece into a circle to fit the top of the cake. Brush with a little honey, secure a Marzipan circle on top and trim to neaten.
Lightly dust your work surface with icing sugar. Roll out 100g the Regal-Ice Icing to a thickness of 5mm (1/4in) and using your pastry cutter, cut out four discs of icing.
Using a star shaped cutter, stamp out 4 stars from the 4 discs of icing and remove excess icing. Brush the Marzipan with a little water and carefully secure the Regal-Ice discs on top of each of the cakes. Carefully fill each star cut out with Soft Silver Pearls.
To finish, secure a piece of ribbon round the side of each cake.
Serves
4
Cooking Time
90 minutes
Main ingredients
Dairy, Flour, Fruit, Eggs
Recipe Type
Cakes & Baking
Special Info
Vegetarian
Level of Difficulty
Fiddly
Other recipes you may like
Trending and Sponsored