Moroccan orange cake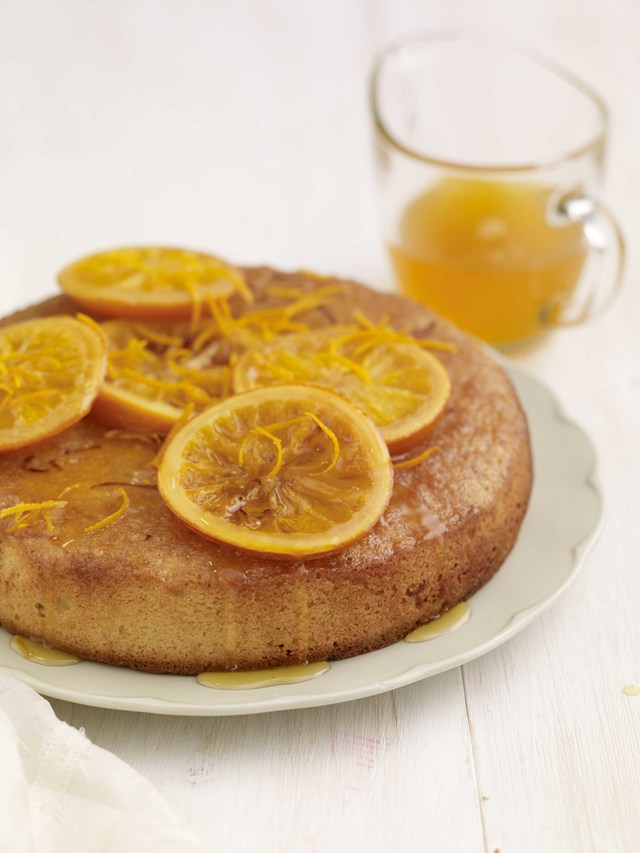 Ingredients
Cake
125g white breadcrumbs, slightly stale
250g caster sugar
250g ground almonds
1 tsp baking powder
180ml sunflower oil
4 eggs
Zest of 1 large unwaxed orange
Zest of 1 large unwaxed lemon
Citrus syrup
Juice of 1 large unwaxed orange
Juice of 1 large unwaxed lemon
80g caster sugar
1 cinnamon stick
1 clove
Candied orange slices
1 orange
130g sugar
160ml water
Method
Preheat the oven to 180°C/350°F/Gas mark 4.
Grease and line a 20cm x 5cm or 8in x 2in round cake pan with greaseproof paper.
Mix together the breadcrumbs, sugar, almonds, and baking powder in a large bowl.
Whisk the oil and the eggs together, then pour this mixture into the dry ingredients and mix thoroughly. Add the orange and lemon zest and mix again.
Pour the mixture into the tin and bake in the oven for 45–60 minutes or until golden brown and a skewer inserted into the centre comes out clean.
Allow to cool for 5 minutes before turning out onto a wire rack.
To make the citrus syrup, pour the juices, sugar, cinnamon and clove into a saucepan and bringing gently to a boil, stirring until the sugar has dissolved completely.
Simmer for 3 minutes then remove the cinnamon stick and clove.
While the cake is still warm, pierce it several times with a skewer, then spoon the hot syrup over the cake, allowing it to run into the holes. Leave to cool. Spoon any excess syrup back over the cake every now and then until it is all soaked in.
To candy the oranges, cut the orange into ¼ inch slices. Put the slices in a non stick saucepan, and add enough water to cover them well.
Bring to a simmer and blanche the slices for ten minutes, drain well.
Put the oranges back in the saucepan and add the sugar and water and cook the oranges at a simmer for about 15-20 minutes, or until they are tender and translucent.
Decorate with the candied orange slices.
Serves
8-12
Main ingredients
Dairy, Flour
Recipe Type
Cakes & Baking
Cuisine
Moroccan
Level of Difficulty
Medium
Other recipes you may like
Trending and Sponsored