No-bake Christmas pudding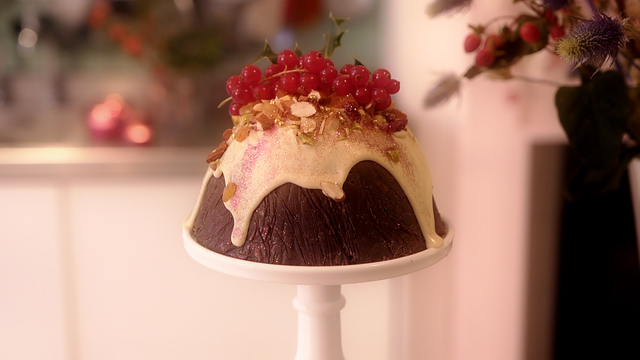 This will probably be the quickest and easiest Christmas Pudding you will ever make. Not to mention impressive looking and tasting.
150g milk chocolate
150g dark chocolate (at least 70% cocoa solids)
50g unsalted butter
400g can condensed milk
250g digestive biscuits
Topping:
100g white chocolate
1 tbsp roughly chopped whole almonds
1 tbsp roughly chopped green pistachios
1 tbsp roughly chopped dried apricots
1 tbsp roughly chopped dried cranberries
1 tbsp roughly chopped golden raisins
1 tsp edible gold balls
¼ tsp edible glitter
String of red currants
Sprig of holly, optional
Line the inside of the pudding basin or bowl with cling film, leaving the excess hang out over the edge and set aside.
Snap both chocolates into a large bowl, add the butter and either melt in the microwave in 30 second blasts, stirring between each go, or over a pan of simmering water, shallow enough that the water doesn't touch the bowl.
Once melted, stir in the condensed milk until well combined.
Snap the biscuits in chunks into the mixture and stir until evenly coated.
Spoon into the prepared pudding basin or bowl, pressing down well and smoothing with the back of a spoon as you go to prevent gaps and air pockets.
Cover with the excess cling film and chill for at least 4 hours, or overnight, until set.
This cake can be made to this point a week or two ahead and kept covered in the fridge.
When ready to serve, use the cling film to lift the cake out of the bowl, sliding a palette knife down one side if necessary to help release it.
Remove the cling film and sit the cake flat side down on a cake stand or plate.
Melt the white chocolate as before and leave to cool to body temperature.
Spoon carefully over the top of the pudding, allowing it to run down the sides.
Sprinkle the nuts, dried fruits, edible balls and glitter over the top to stick.
Lay the string of red currants over and top with the holly if using.
Refrigerate for at least 30 minutes to set the chocolate topping if liked or serve as is.
Serves
8
Preparation Time
40 minutes
Main ingredients
Chocolate, Fruit, Drinks, Sugar, Nuts, Biscuits
Recipe Type
Dessert
Level of Difficulty
Moderately Easy
Essential Kit:
1 ltr pudding basin or bowl
Other recipes you may like
Trending and Sponsored