Orange Graham Pancakes with Orange Syrup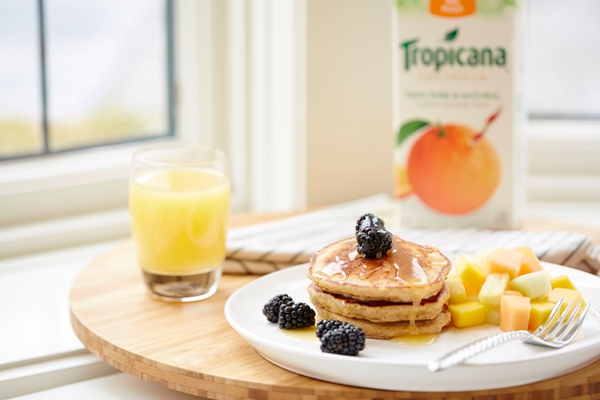 It's never been easier to (rise and) shine in the kitchen than with these delicious Orange Graham Pancakes. Zesty and fluffy, these golden pancakes are topped with a quick orange syrup that's guaranteed to have everyone licking their lips!
Orange Syrup:
- 120 mL Tropicana Pure Premium® Orange Juice
- 100g granulated sugar
- 1 tbsp water
- 1 tsp cornstarch
- 1 tbsp butter
Orange Graham Pancakes:
- 240 mL Tropicana Pure Premium® Orange Juice
- 240g flour
- 170g graham cracker crumbs
- 50g brown sugar
- 1 tbsp baking powder
- 1/2 tsp orange zest
- 1/2 tsp kosher salt
- 2 eggs
- 280 mL buttermilk
- 250 mL melted butter
- 1 tsp vanilla extract
For the orange syrup, in a small saucepan, whisk orange juice and sugar over medium heat, until it comes to a boil. In a small bowl, combine water and cornstarch to dissolve. Whisk into saucepan and lower heat. Simmer gently, stirring occasionally until thickened, about 6‑8 minutes. Remove from heat and stir in butter. Set syrup aside.
For the orange pancakes, in a large mixing bowl, combine flour, graham cracker crumbs, brown sugar, baking powder, orange zest and salt. In a medium bowl, whisk eggs, buttermilk, orange juice, melted butter and vanilla. Stir egg mixture into dry ingredients, being careful not to over‑mix ‑ lumps are okay in the batter.
Over medium heat, pour 60mL pancake batter on a lightly greased hot skillet or griddle. Cook until bubbles form, then flip over and cook on the other side until golden. Serve pancakes with orange syrup.
Main ingredients
Flour, Fruit, Eggs
Recipe Type
Breakfast
Level of Difficulty
Easy

Other recipes you may like
Trending and Sponsored