Pecan and praline cupcakes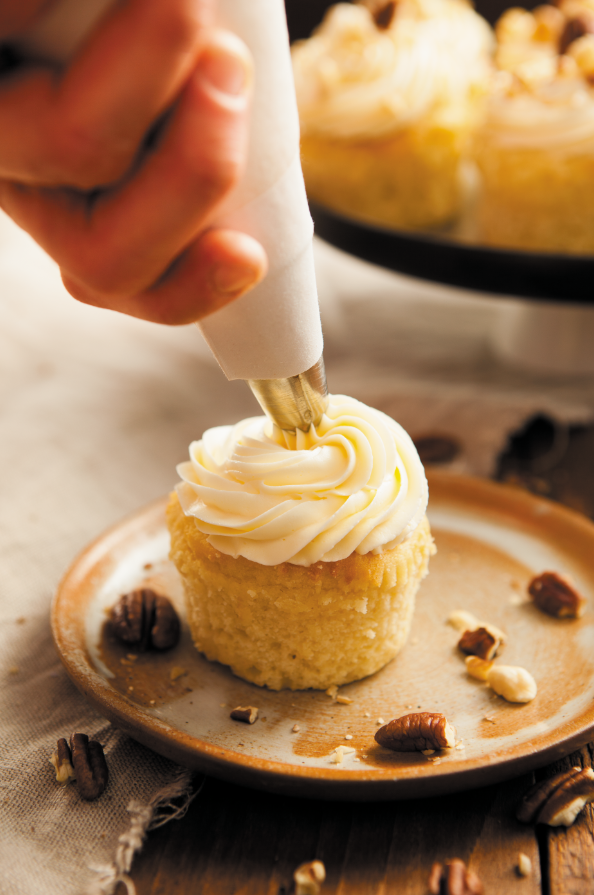 This is a very grown-up cupcake. No need to pipe on buttercream here if you haven't time, a dollop will suffice nicely. The praline can be made in advance and a sprinkle will liven up any cake. However, if you do not have time to make the praline, fear not. An alternative way to finish the cupcakes is to sprinkle some crushed nuts on top.
75g tapioca flour
15g teff flour
115g corn flour
125g potato flour
¼ tsp salt
4 tsp gluten-free baking powder
¾ tsp guar gum
200g butter/margarine, at room temperature
300gcaster sugar
3 large eggs
2½ tsp vanilla extract
50g pecan nuts, chopped
390ml warm milk
Vanilla buttercream:
150g butter/margarine
300g icing sugar, sieved
½ tsp vanilla extract
Praline:
100g roughly chopped mixed nuts (blanched almonds, peeled hazelnuts, pecan nuts)
125g sugar
Preheat the oven to 190°C / 375°F /
Gas Mark 5
. Line a twelve-hole queen cake tin with paper cases.
Sieve together the flours, salt, baking powder and gum and set aside.
Cream the butter/margarine and sugar until light and fluffy with a hand-held electric mixer.
In a small bowl, beat the eggs lightly with the vanilla extract and add to the butter mixture gradually, beating between each addition.
Add the flour mixture three tablespoons at a time and fold in between each addition.
Add the pecan nuts and mix in.
Add the milk, mixing thoroughly.
Divide the mixture evenly between the paper cases.
Bake in the centre of the preheated oven until golden brown and an inserted skewer comes out dry. Remove from the oven and cool on a wire rack.
To make the vanilla buttercream:
Cut the butter/margarine into small cubes and place in a medium-sized bowl with the icing sugar. Mix with a hand-held electric mixer until fully blended. Add the vanilla extract and beat again.
Spread a dollop of the vanilla buttercream on top of each cupcake, or, if you have time, fill a piping bag with the buttercream and, using a wide star nozzle, pipe onto the cupcakes in nice high spirals.
Prepare a baking sheet by lightly oiling it and set aside.
Place the nuts on a baking tray and place under the frill for five minutes, until the skins blister and the almonds and hazelnuts turn golden brown.
Place the sugar in a heavy-bottomed pan and heat over a gentle heat without adding any liquid and stir continuously until it has melted completely and is a light golden colour.
Add the nuts and cook for one minute, stirring to allow the nuts to be fully coated.
Pour the mixture onto the baking sheet and allow to cool at room temperature for approximately 20 minutes.
Then either break up in the food processor or beat with a rolling pin. When cool, store the praline in an airtight container at room temperature.
To finish the cupcakes, sprinkle them generously with praline.
Serves
makes 12 cupcakes
Preparation Time
15 minutes
Cooking Time
40 minutes
Main ingredients
Dairy, Flour, Eggs, Sugar, Nuts
Recipe Type
Cakes & Baking, Entertaining, Cake Stall, Cupcakes
Level of Difficulty
Easy
Other recipes you may like
Trending and Sponsored