Royal Icing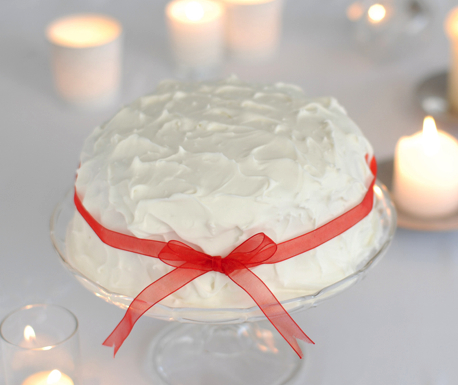 3 egg whites
670g icing sugar, sifted
1 ½ tsp glycerine
The glycerine will prevent the icing from becoming too brittle – you can buy it in most chemists.
Beat the egg whites in a spotlessly clean bowl until they are starting to foam.
Add the icing sugar, a little at a time. Beat until the mixture is standing in soft peaks – it should be stiff.
Next whisk in the glycerine. This will make a very spreadable icing – if you want to pipe with it, add a little more icing sugar to stifen it up.
Spread the icing on top of the cake using a palette knife and start to cover the sides by brining it down over the top of the cake.
Apply generous scoops of icing and keep smoothing it out as you go.
To create a snow scene, use the back of a tablespoon and use it to 'hit' the icing – lifting it up and down around the cake to create the snow peaks. Decorate with Christmas cake decorations and allow to set for 24 hours.
If desired, tie a pretty ribbon around the cake.
This photo was created by mummy Camilla Blackie (The Vintage Cake Spot)
Serves
This quantity will ice a 23cm square cake
Recipe Type
Cakes & Baking
Other recipes you may like
Trending and Sponsored