Vanilla & lemon mousse with Bailey's chocolate sauce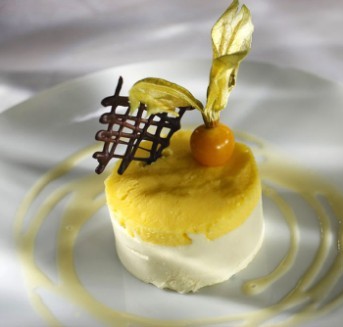 For the mousse For the Topping For the frangelico sauce
150g Avonmore milk
20g caster sugar
3 egg yolks
250g semi whipped Avonmore cream
2 gelatine leaves or 1½tsp powdered gelatine
1 vanilla pod (split lengthways) or ½tsp vanilla essence
6 x 2¾inch (7cm) ring moulds
100g fresh lemon juice
3 egg yolks
2 Eggs
80g caster sugar
80g Avonmore unsalted butter (diced into small cubes)
300g white chocolate drops
100g Avonmore milk
300g Avonmore fresh cream
1 measure Bailey's liquor
Firstly, place the 6 ring moulds on a flat tray in the freezer.
To make the sauce: Combine the milk & cream in a saucepan, and bring to the boil. Remove from the heat & add the Bailey's liquor. Using a whisk gradually add the white chocolate drops to the hot liquid whisking as you add until all the chocolate has been added and has completely melted. Allow to cool and reserve.
To make the mousse: Using another saucepan, add the vanilla to the milk and bring to the boil. Remove from the heat & leave to infuse for 10 minutes. Remove the vanilla pod & discard. Mix the eggs with the sugar and soak the gelatine in a little cold water. Add the egg mixture to the warm milk and whisk over a low heat until the mix just begins to thicken (Do not boil!!) Remove from the heat and whisk in the soaked gelatine. Transfer to a clean bowl and set aside until the mix is completely cool.
Once cold, fold half the cream into the vanilla mix. Then pour this mix onto the rest of the cream and fold in. ¾ fill the frozen moulds with the mix and allow to set in the freezer.
To make the lemon topping: Mix the lemon juice, sugar & all the eggs together. Gently heat the mix until it becomes thick like custard, whisking all the time. (Do not boil the mix!!). Transfer the mixture to the bowl of an electric mixer. Using the whisk attachment whisk the mixture on a medium setting, while gradually adding the diced butter a little at a time. Leave to whisk until the mix has cooled down.
Pour a little of this mix into the top of the vanilla mousse moulds and refrigerate until set.
Remove from the moulds and serve with the Bailey's chocolate sauce.
Preparation Time
30 minutes
Cooking Time
15 minutes
Recipe Type
Cakes & Baking, Dessert
Level of Difficulty
Medium
Other recipes you may like
Trending and Sponsored