Warm Superfood Salad with Goats Cheese and Berry Dressing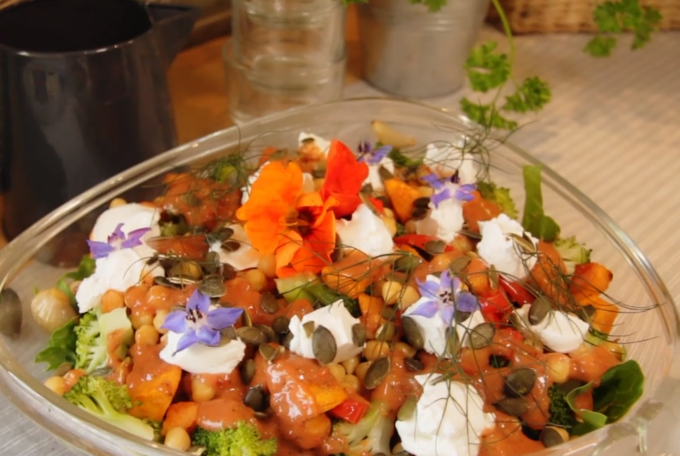 This salad is energizing and delicious - its ticks all the boxes for a healthy meal. My tip for this recipe is to open the fridge door, and start using all those spare veg sitting there. In other words, anything goes. I love to add avocado to this recipe – it works really well with the goat's cheese.
For the roasted vegetables:
3 large sweet potatoes, peeled and diced
1 red pepper, sliced
8 shallots, peeled and halved
1 medium orange, quartered
5 sprigs of rosemary
For the dressing:
10 strawberries, washed, hulled and halved
2 tbsp. goji berries
4 basil leaves
1 tbsp honey
80ml rapeseed oil
1½ tbsp balsamic vinegar
2 tbsp. chia seeds
For the salad:
300g cooked quinoa
100g spinach leaves, wash and trimmed
100g cooked chickpeas
12 blanched broccoli florets
100g soft goats cheese, for topping
2 tbsp pumpkin seeds, for decorating
Borage and nasturtium flowers, for decorating
Salt and freshly ground black pepper
Rapeseed oil, for roasting
Preheat the oven to 180C/fan 160C/gas 4.
For the sweet potato:
Place the sweet potato, red pepper, shallots, rosemary sprigs on a roasting tray and squeeze the orange over the vegetables. Drizzle over a little oil, add salt and freshly ground black pepper.
Roast for about 25 to 30 minutes or until cooked and lightly caramelised.
To make the dressing:
Place the strawberries, goji berries, basil leaves, honey, salt, freshly ground black pepper and balsamic vinegar into a blender and puree until smooth.
Stir in the chia seeds. Pour into a jug and set aside.
To assemble the salad:
Using a large glass bowl, place the cooked quinoa at the base of the bowl and spoon some dressing over.
Then layer half of the roasted vegetable mix onto the quinoa. Add the spinach, followed by half of the chick peas, all the blanched broccoli florets and layer with the dressing in between.
Top with the remainder of the roasted vegetable mix and the rest of the chick peas.
Place generous spoonfuls of goats cheese on top.
Finally sprinkle over the pumpkin seeds and arrange the borage and nasturtium flowers on top.
Serve immediately.
Serves
4 - 6
Main ingredients
Fruit, Cheese, Vegetables
Recipe Type
Dinner, Entertaining, Family Dinners
Level of Difficulty
Medium
For the winter months, use wilted kale and roasted beetroot which are both very easy to grow.
For more recipe videos click
here
.
Other recipes you may like
Trending and Sponsored