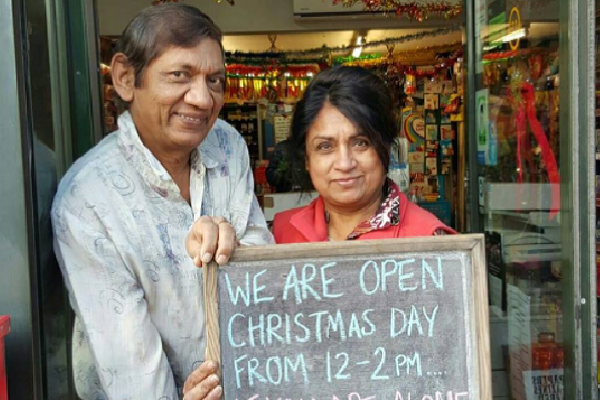 Picture via Facebook
Okay, not going to lie, this story has us BAWLING.
There are plenty of people who find themselves lonely at Christmas, for any number of reasons. It's heartbreaking to think of those who don't have anyone to spend the holidays with.
Well, good Samaritans Shashi and Pallu Patel decided to do something for people who need a little company this Christmas.
The Patels have run their shop Meet & Deep News in Twickenham, south west London, for decades. The parents get help from their two sons, Deepen and Meeten.
Although they are Hindu, the family LOVES getting into the Christmas spirit.
When the couple found out that some local people were spending the holiday on their own, the Patels decided to open their shop for Christmas day.
"You don't have to buy anything... we just want to see you!" the Patels wrote in a Facebook post. They will be open from noon to 2pm on December 25, for hugs, mince pies, and much-needed chats.
Shashi and Pallu ended their Christmas invitation with the sweetest sentiment: "We are family."
Our hearts are bursting with Christmas cheer just hearing that!
The tradition has continued for years now - and it's gone viral! Meet & Deep News' post inviting lonely people to stop by on the holiday has been shared over 50,000 times.
It's wonderful to see how many people have been touched by the Patels' compassion.
The family doesn't confine their positivity to just one day of the year, though. The Meet & Deep News' Facebook page is brimming with positivity and smile-inducing posts. We definitely recommend a scroll.