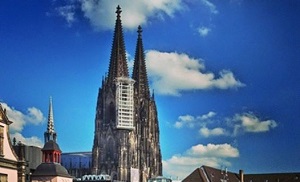 Greetings, or should we say Grusse!
I was delighted to visit a big fair in Cologne, Germany called 'Kind and Jugend' in September. It had everything you could imagine in the baby world, including a fantastic range of must-haves while you're pregnant.
It was lovely to chat face-to-face with suppliers and to find new products for our wonderful customers.
I brought along a good friend of mine so we could enjoy a bit of sightseeing together after the fair - after all, you can't visit Germany for work and not enjoy this great country. It is full of many beautiful buildings and shops, and of course the food is delicious.
After arriving to this huge building in which 'Kind and Jugend' was set, I was slightly nervous as it had so many different sections on so many levels. I knew I needed a set plan so time wasn't wasted, so I sat down with a coffee and made a map in which to follow.
There wasn't that much maternity fashion there this year, but lots of fashion fixes!!
I have chosen five products which I fell in love with and just know our customers will too. Here they are:
Bravado nursing bras
These amazing bras have been around for more than two decades now, but not in Ireland - why? I seriously don't understand. I personally use them and adore the comfort, fit and shape.
I bought mine six years ago while pregnant on my little boy, and now I am back into it - and it still works to perfection.
Whether you're looking for a comfortable maternity bra, T-shirt bra, sleep bra or a bra for a special occasion, Bravado Designs can ensure you find exactly what you are looking for in their successful collection.
Having pioneered seamless products with flexible sizing, Bravado has continued to develop this design and has got it to perfection in my eyes.
They are s
oft
, d
iscreet, flexible and comfortable, of high quality,
and
stylish
too,
And the best news is they will be available at Stylemama.ie in mid October! But for now, check out
www.bravadodesigns.com
for easy shopping and helpful advice.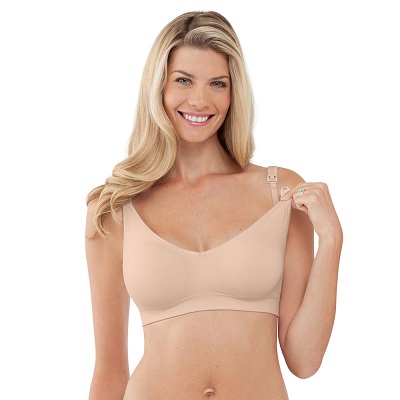 Belly Bandit
Where do I start?! They have so many 'before' and 'after' products for women, which help with support during pregnancy and after to get your body back in shape.
This is such an amazing company, and while customers are wearing fitted occasion dresses, many want to feel and look their best. You might have heard of Mama –spanx? Well, these guys do a very similar product, and much more for the pregnant lady.
Our two absolute favourite products are the
Thighs Disguise
and Upsie Belly.
Thighs Disguise is a wardrobe essential that helps smooth your silhouette. With a light squeeze of the thigh and a lift of the tush, they have constructed an incomparable piece. The ultra-thin, moisture-wicking, Wonder Weave material prevents uncomfortable chafing while providing gentle belly support that cradles and hugs your curves. Specially formulated Wonder Weave material allows any lotion to be worn around the clock, helping to reduce stretch marks all day long. This is perfect for wearing under your dresses, skirts and pants.
A must have, Thighs Disguise retails at €45.00 and is available in nude and black. Check out
www.bellybandit.com
.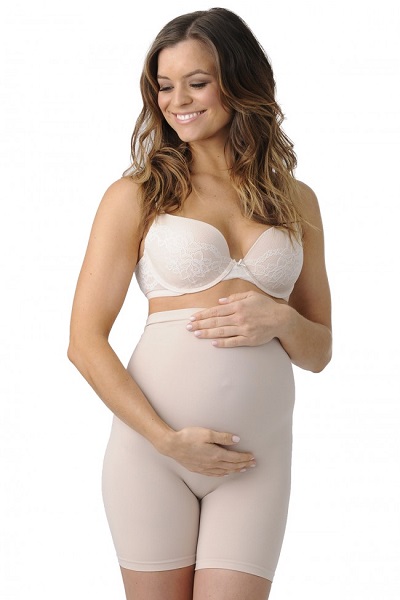 As your belly grows, you may find it uncomfortable and difficult to move with this new weight. Upsie Belly provides immediate relief, making it easier to increase your range of motion and daily activity throughout your pregnancy. Their revolutionary Secure Stretch materials mould to your body with just the right amount of tension. This creates a strong support and stable fit, while the exclusive soft-front closure allows you to move freely, without digging or discomfort. Because your baby bump is what matters most, the Upsie Belly is created from ultra-soft bamboo made from viscose materials, and includes a hot/cold gel pack.
Two bands in one - it works double duty!
Use the gel packs after you deliver for added comfort and relief. Simply turn the belt around and fasten it in the back so the hot/cold pack lies over your healing belly.
Simply amazing! And who doesn't have a sore back during pregnancy? I sure do, and will be investing in one of these guys. Upsie Belly retails at €75.00 and is available on
www.bellybandit.com
.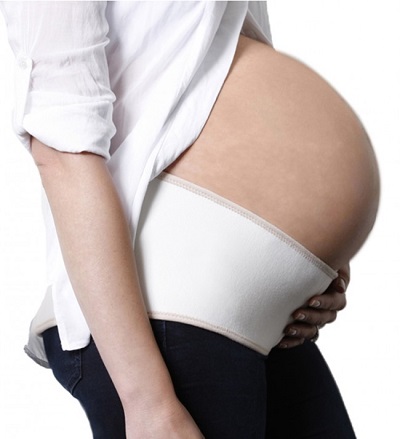 Bébé Au Lait
Bébé Au Lait is another amazing company, and they continue to grow over the years. They supply fashionable nursing covers, nursing scarves, and the most beautiful nursing pillows we have ever come across.
If you are looking for a little extra privacy while nursing in public, Bébé au Lait Nursing Covers are the perfect buy. They have a patented open neckline that holds the cover away from mUm and baby, allowing them to maintain eye contact so they can continue to bond while breastfeeding on the go.
The open neckline provides airflow and allows mums to see that the baby is properly latched, which is key to breastfeeding success. Secure and adjustable, the neck strap holds the nursing cover in place; giving you privacy and confidence while breastfeeding, wherever you are.
They look super stylish, and their new nursing scarves can be used for nursing and can be worn just like a normal scarf! You really can't tell the difference. These are c
oming to Stylemama.ie mid-October.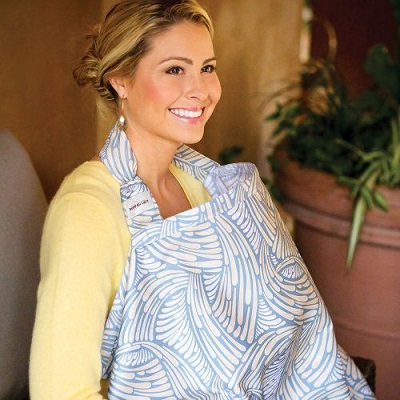 Aden & Anais
You have probably heard of these products already, as many celebs have them when they are out and about with a new baby. From swaddles, blankets, gift sets, cosy sleep-suits, bib and burp clothes, and muslin squares, they really have become fashionable for new mums to have in that baby bag.
Not only can you swaddle your wee one, but on a sunny day these swaddles can be thrown over your pram to keep out any strong rays. They come in so many funky designs, we found it almost impossible to choose our selection In Germany.
From the breathability and natural give to the softness and durability, Aden & Anais aims to bring global awareness of cotton muslin and all of its benefits. The overwhelming response to their signature muslin products from parents, nurses, paediatricians, industry experts, lactation consultants, and even celebrities has been incredible. Check out
www.adenandanais.com
- t
hey believe in expression through style.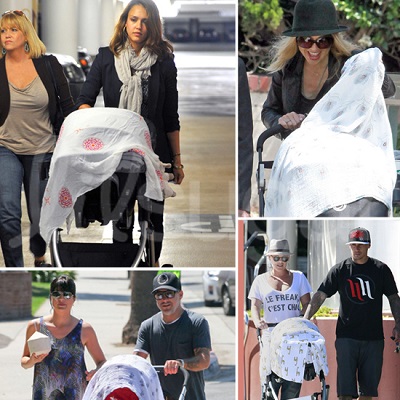 Pomkin
Pomkin is our most favourite nursing wear to date, retails at a great price, is super stylish and of an outstanding quality. We have met these guys in France on many occasions and they were also at the fair in Germany. Around
since 2007, this trendy, chic Parisian label is dedicated to the mother and breastfeeding.
The brand offers an urban cloakroom and glamour to future and young mothers. The perfect cuts sublimate the silhouette and free movement; the high quality materials are soft and fluid, and the shimmering colors and prints come alive with subtle shades.
Many of their tops and dresses are suitable for wear during pregnancy, and are also suitable for breastfeeding due to their easy and discreet
access within.
Pomkin works closely with designers and experts in their field for the development and manufacture of collections. We are so in love with brand and can spoil our customers with choices of colors and styles. Pomkin products are a
vailable now at
www.stylemama.ie
,
and more colours and styles are to be added this year.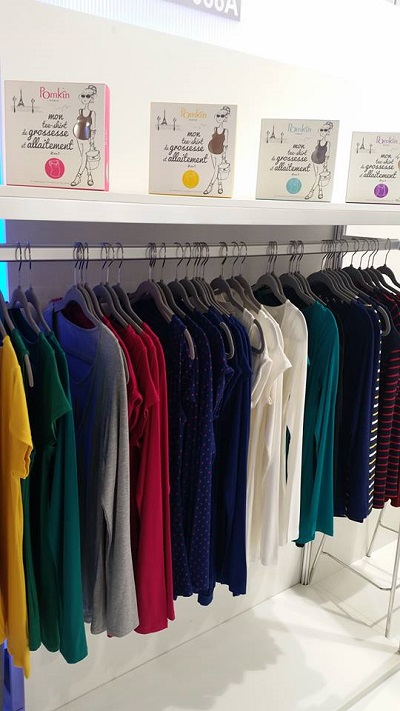 So, there you go; our favorite top picks of money well spent during and after pregnancy. If you have any questions, we are only delighted to answer them.
See you next month!
If there is any subject from the maternity fashion world that you would love us to write about, send an email in to
gillian@stylemama.ie
x