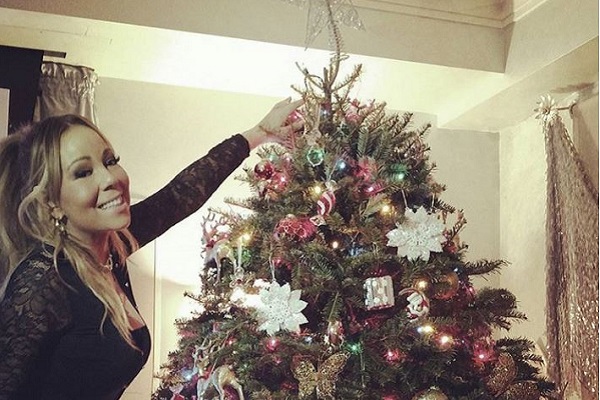 Instagram is flooded with photos of twinkling Christmas trees, perfectly wrapped presents and glasses of mulled wine. We love posting festive snaps online, but our Christmas photos will never match those of celebrities like Britney Spears and Reese Witherspoon.
The stars of tinsel town have the most extravagant Christmas trees which have left us green with envy.
1: Kylie Jenner
The Keeping Up With The Kardashians star's tree is donned with the giant pink baubles and twinkly Christmas lights, but the one thing we can't believe is the fact that the tree is 20 foot tall.
2: Rochelle Humes
We adore how traditional Rochelle's Christmas tree is, and the rocking horse adds the cutest touch. The Christmas tree makes her house look extra cosy.
3: Reese Witherspoon
Reese is one of our favourite Instagram stars. She didn't disappoint us this Christmas with her witty post. The Big Little Lies star shared, "When you order #Christmas ornaments online... #ExpectationsVsReality."
4: Katie Piper
Katie added the sweetest Disney decorations to her Christmas tree which add an extra bit of joy. She'll certainly have a magical Christmas, especially with two little girls at home.
5: Fearne Cotton
Decorating the tree may be stressful at times, but Fearne Cotton showed us just how special it is by sharing the cutest snap of her family decorating their tree. She wrote, "I'm having one of those moments where I feel insanely grateful."
6: Rob Lowe
We can't even begin to imagine how long it took the Parks and Recreation star to decorate this giant Christmas tree. We are crazy about those colourful lights.
7: Mariah Carey
We just had to mention the Queen of Christmas herself in this list. Mariah has the most beautiful decorations on her tree. Where can we get those reindeer ornaments?
8: Ed Sheeran
Ed looks just as jolly as Santa Clause standing by his Christmas tree. We love how the Perfect singer used both coloured and white lights- quite a brave move. The star on top of the tree is looking a tad bit crooked though.
9: Pink
The What About Us singer shared the cutest photo of her kids posing in front of their tree. We love how she went for a stripped back look with some simple coloured Christmas lights.
10: Britney Spears
The princess of pop has the most magical Christmas tree. It looks like it came straight from a fairy-tale.
Which celebrity had the best Christmas tree this year? Let us know, mums!