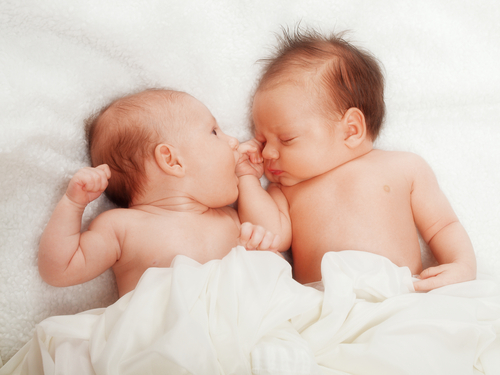 Being told that you are expecting twins can be a surprise, but before you start thinking about the extra work that comes with two babies, know that the positives definitely outweigh the negatives.
Twice as much love
There is something amazing about a baby's smile that leaves people gushing, and it's double the fun when you have two little ones.
Two babies, one pregnancy
If you only ever wanted to have two kids, your job is done - lucky you, only having to go through it once.
Matching outfits
There is something so incredibly cute about siblings wearing the same outfit, especially when they are twins. Getting your kids to wear matching outfits will probably only happen when they are small, so make the most of it.
Best friends
Your kids automatically have a best friend and they'll never have to face things on their own.
Getting the job done
While you are getting up for one in the middle of the night, you may as well get up for two. Night feeds will be over for good soon enough and you'll never have to deal with them again.
Babies are cute
Babies are cute but with twins, it is cuteness overload.
Conversation starter
There is just something about twins that pulls people in, so prepare yourself for all of the attention you will get. You will never be stuck for an ice breaker when you have twins running around.
Double the firsts
When you have one child, the first time they walk, their first tooth and the first time they talk is amazing – you get to experience all of these twice when you've got twins.
One routine
When your kids are the same age it is easier to establish one routine that the whole house can work with, rather than accommodating it for a young child and an older child.
Watching them hang out
Twins can have a special bond and will no doubt create their own secret language. Watching them hang out together is so much fun.
One birthday party a year
Organising birthday parties can be stressful – thankfully being a mum of twins means you only have to do this once.