It's in 97 countries in the world and now Ireland is finally part of it – Mustela's skincare products which are especially formulated for babies, expecting mothers and new mothers, is now available in Ireland!
Taking care of your skin has always been a priority and when your baby arrives, taking care of their skin is just as important. With 60 years of experience Mustela has a really strong relationship with healthcare, and ensures that mum and baby receive a luxury experience that is both sensory and pleasurable.

Your baby's skin is a protective covering against the outside world. As skin provides protection and aids sensory development, it needs specific care and your full attention from the time your baby is born.
Mustela have carried out new research to better understand the needs of the delicate skin of babies to ensure they can provide effective, safe and natural care for mum and baby.
In their research, Mustela discovered that:
Baby's skin is very fragile from birth on to the age of 2 and is different from adult skin
The skin barrier undergoes a maturation process as it is not fully developed
The skin barrier is immature and is not able to retain the moisture it needs
Babies skin are more sensitive to external aggressions
In order to give your baby's skin the care it needs each day, you need to be able to recognise your baby's skin type, fully understand the needs and use the right products for that skin type.
So, how do you diagnose a baby's skin type?

Mustela has made this as easy as possible, through a simple and informative
online portal
to guide you in your moment of need. All you have to do is to take the 'how to diagnose your baby's skin' quiz, to find out everything you need to know.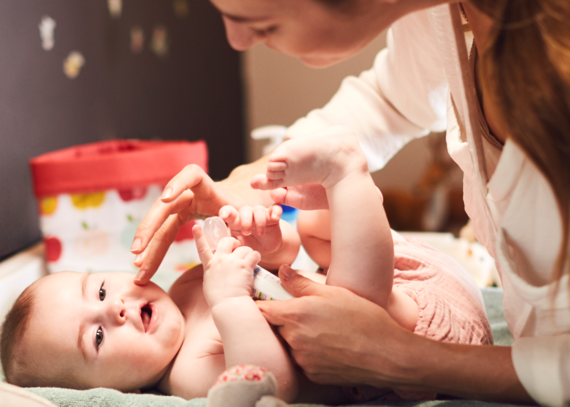 Your baby's skin is very fragile from birth until the age of 2, as the skin barrier undergoes a maturation process. Generally, a baby's skin will fall into one of four categories; Normal, Dry, Eczema-Prone and Very Sensitive, which is often a misconception among mums.
Through their research, Mustela have created dedicated ranges with active ingredients for all 4 types: Normal, Dry, Eczema-Prone and Very Sensitive.
As well as looking after mum and baby skin, using the Mustela skincare routine is also a beautiful moment of sharing, pleasure and emotion that contributes to the well-being and development of the baby and child, and the fulfilment of the new or expecting mother.