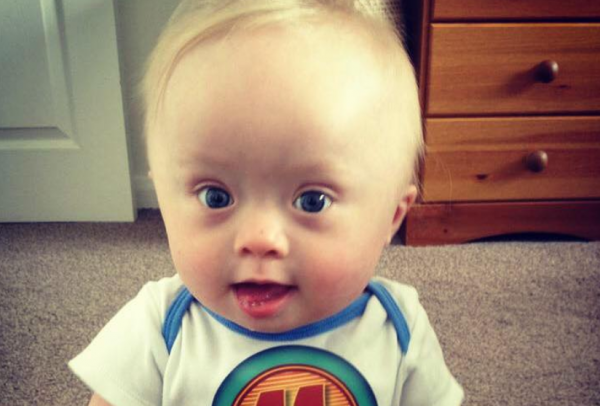 A mum has come in for major praise this week, for prompting a change in the language used during pregnancy scans.
Sarah Roberts, a British blogger at Don't Be Sorry, wants medical staff to swap the word 'risk' for 'chance' when discussing the probability of a child being born with Down syndrome.
Sarah - who is mum to five-year-old Oscar, who was born with Down syndrome - took to her Facebook page to share her message with the masses.
"When women go for their scan around 12 weeks, bloods are taken as well as a measurement of the fluid behind the baby's neck, and from those combined results they're given their 'risk' of having a baby with Down syndrome," she explained.
"While I understand a lot of women want to screen, or indeed go on to have further testing...I've often been puzzled by the use of the word 'RISK'. For, if you look up the word 'RISK' in the dictionary, it says 'a situation involving exposure to danger'."
For Sarah, this 'definition' could not be further from the truth, and she knows that other parents in her situation share her opinion.
"Last time I looked, having Oscar hasn't exposed me or anyone else to danger. Quite the opposite. So, I...feel that 'chance' would be a much better use of language," she added.
Sarah knows that she has an uphill climb ahead of her; indeed, she went on to recall a pregnant friend's recent experience at an ultrasound appointment. When the unnamed friend asked the sonographer to use 'chance' instead of 'risk', the medic marked on her file that it was a 'sensitive issue'.
"It's about changing people's mindsets, right? One person at a time," wrote Sarah. "Whether they work in health care or whether they're someone like you or I, who, perhaps, didn't have the knowledge and understanding before."
Sarah went on to urge those reading her post to share the message with their family, friends and, perhaps most importantly, their medical practitioners.
The proud mum came in for major praise for her sentiments on Facebook, with a number of medical professionals vowing to take her advice on board.
"I am a midwife and had never reflected upon the use of this language. It's an emotive word, and it's one I always need to explain. 'Chance' would be far easier for people to understand, and whilst children with DS have higher risk of certain health issues, you are completely correct," wrote one.
Another chimed in: "I'm a paediatrician (and parent). Honestly never thought about this but completely agree. If it comes up in practice, I will definitely think about my wording. Thank you."
What are your thoughts, mums?