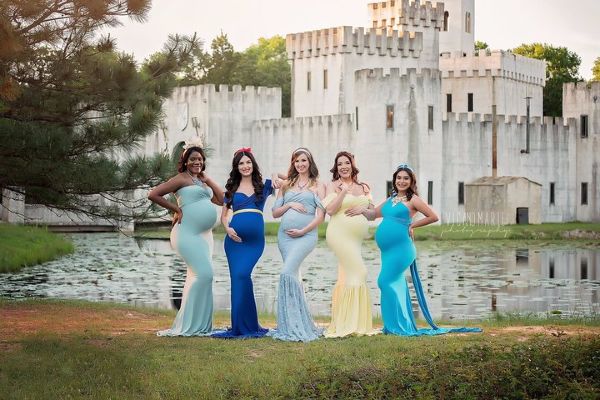 It is safe to say that most of us reserve a special place in our hearts for all things Disney - with so many wonderful movies and characters, it would be hard not to.
Earlier this month, Victor Luna, a photographer, and his wife Marie, a photo editor, went to a Castle in Bellville, Texas, for a maternity shoot with five beautiful pregnant women, and the theme was Disney princesses.
The photographic duo explained to The Huffington Post that they were originally insired by Beauty and the Beast, and then decided to expand their idea.
"It started out with a Belle-inspired shoot, but as we talked about the ideas and planned it, the more we wanted to go outside of our own element. That is where the group shot of the Disney-inspired photo shoot with all the princesses came to be."
For the purpose of the photo shoot, the five mums dressed as Tiana from The Princess and the Frog, Snow White, Cinderella, Belle from Beauty and the Beast and Jasmine from Aladdin.
Victor and Marie said that they that they matched the "beautiful mommies" with the princesses they thought they best represented, and described the day of photography as "a mix of magic and chaos."
"Between the wardrobe changes, the makeup retouches, the pee breaks, and one mommy close to giving birth, we managed to make it come together beautifully," they said.
The couple also explained how excited the mums all were when the pictures began to go viral:
"When we noticed that a few people started to share the photos, our mommies would get in contact with us to let us know that they were famous! It made us feel so happy that they were feeling like actual princesses."
The images have been shared on social media, and have achieved viral status in a matter of weeks.
Thousands of people have commented about how beautiful the pictures are - and we absolutely agree.