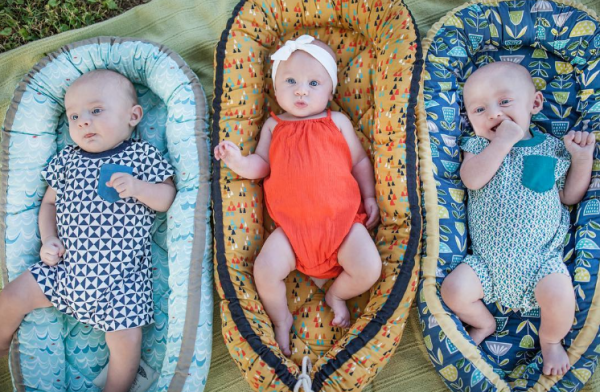 This mum nearly broke a world record as she gave birth to the second heaviest set of triplets.
Kate Tipton was just 2.4lbs off the world record as she gave birth to her triplets weighing in at 19.6lbs in total.
Luke, Stella and Jack were born at 34 weeks and became baby number three, four and five for Kate and her husband Caleb.
Doctors were concerned about the premature birth at first, worrying the triplets would need to be placed in the ICU but they shocked the medical staff when they broke hospital records for largest ever triplets born there.
Jack, Stella and Luke weighed 7lbs 4oz, 6lbs 3oz, and 5lbs 9oz respectively which meant they were 2.4lbs short of the record set in 2004 when a Californian mum gave birth to triplets weighing 22lbs.
However, Kate was glad that she didn't have to carry the few extra pounds.
"I would stand up and you could literally hear my hips crack. They would make noise," the mum-of-five told WBIR.
"The sound of so much pressure on top and so much weight. It was difficult."
The triplets now return home to meet their big sisters Aubrey Rose and Soph Ann.
SHARE this amazing story.