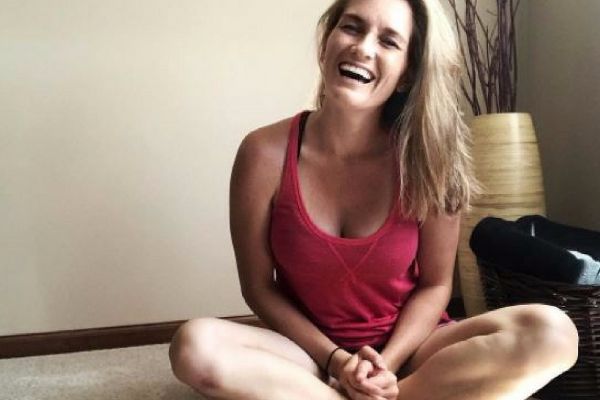 Those who have experienced a miscarriage know all too well the devastating pain and grief it brings.
28-year-old Shelly Mettling was distraught after her first pregnancy ended in miscarriage.
She had dreamed of being a mum and now it had been taken away from her.
The fitness coach summed up her feelings in an emotive Instagram post writing: "UGH".
Alongside a candid snap of herself and her husband Matt, Shelly wrote: "Today is a bit different . . . as we lay here losing something we prayed so damn hard for I can't help but be angry, emotional, sad, confused, and frustrated".
However, even in the midst of such heartbreak, Shelly says she's still counting her blessings.
"I'm grateful that I got to feel (even for a short time) the power of motherhood!
"I'm grateful that I got to experience the bond that a woman feels the instant she finds out she is growing a little human in her belly, "she said.
"I'm grateful I got to feel the love I was capable of feeling/giving to someone that I had never even met! I'm grateful for the fact that God gave me this experience to test my strength!
"I'm grateful for the family and friends that have been checking in on me and lifting me up when I've been so knocked down it's hard to visualize standing again!"
The brave young woman added that she is "sad, heartbroken, [and] torn to pieces," by the loss but is trying to stay positive.
Despite this, there are still painful reminders of what might have been everywhere she goes.
"We scroll our Facebooks where it seems to be that EVERY other couple has a Mom and Dad coffee mug with little booties in between… INSERT KNIFE TO THE HEART HERE.
"We go on a walk to clear our minds only to see a mom walking with her newborn baby in the adorable little stroller we pinned to our Pinterest board just a few weeks prior… INSERT KNIFE TO THE HEART HERE.
"We turn on the TV to watch our favourite show Friends to only see it's the one where Rachel gets pregnant… INSERT KNIFE TO THE HEART HERE".
Shelly hopes that by sharing her experience with her followers on social media she can help others going through the same loss.
"I'm grateful I have a platform to share my story to help others who have made room in their own hearts for someone special they too never got to meet," she wrote.
Our hearts go out to Shelly and Matt, we hope they receive support from their family and friends at this difficult time.