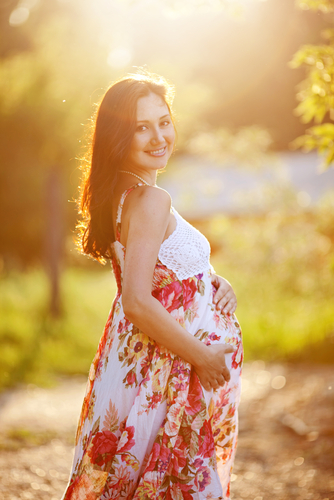 Weddings are fun but they can be a little different when you are heavily pregnant and approaching your due date. However, you can still enjoy the day and spend quality time with family and friends.
Pamper yourself
Why not spend the morning getting your hair, make-up and nails done. It will help you to feel gorgeous and will ease the pressure by having someone else do the hard work.
Prepare for the baby questions
You are bound to have to answer a few baby questions so just brace yourself for it.
What to wear
Treat yourself to a new dress that is both comfortable and stylish. There are plenty of maternity stores to pick up something and you don't have to spend a fortune.
Underwear
Make sure your underwear is comfortable. The last thing you want is to spend the day fixing your straps and hoisting up your knickers.
Shoes
Weddings often involve a lot of standing around so invest in a good pair of comfy shoes. You're pregnant so you have a free pass to wear flat shoes. Avoid high heels when you are heavily pregnant, the last thing you want now is a twisted ankle. If you need to wear heels for photos make sure you have a pair of flats in your bag.
Drinking
Alcohol is not recommended during pregnancy and drinking the same drink over again can get quite dull, so why not indulge in an alcohol-free daiquiri. Bring plenty of bottle water with you in your bag as you may not be able to get a drink until the dinner.
Food
You don't have a lot of say over the menu and being pregnant means you have to avoid certain foods. If they serve something you can't eat, ask for an alternative. Pop some snacks into your bag as there is usually a long wait between arriving at the reception and being served dinner.
Pace yourself
Weddings can go on for long periods of time so it is important you don't tire yourself out too soon. Sit down when you can and if you are staying over why not pop up for a nap in the hotel room.
Enjoy the day as much as you can but if you start to feel tired or overwhelmed you can go home, the bride and groom will understand.