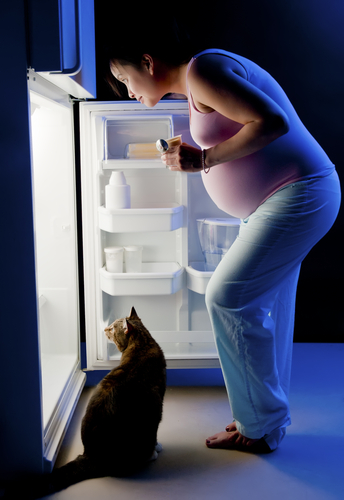 Pregnancy cravings are one side of pregnancy that you are bound to get, and those who don't experience them often feel like they are missing out on something.
If you are experiencing cravings, you may be wondering what the meaning behind the sudden food urge is.
Chocolate
If you are craving chocolate a lot more than you did pre pregnancy, you are not alone. Chocolate is one of the most common cravings that expectant mothers experience; however, it may be down to your body not having enough magnesium. For healthier alternatives, stick to dark chocolate or nibble on seeds and nut to curb any magnesium cravings.
Pickles
As their blood volumes rise, expectant mothers can crave some salt, in particular pickles which are incredibly salty. Try to avoid overloading on crisps and drink plenty of water to remove the salt from your body as is can lead to swelling.
Ice cream
Ice cream cravings can be associated with the body crying out for more calcium. Ice cream can be dangerous for expectant mothers particularly if it has been sitting out for a bit before being put back in the freezer. To keep it healthy try to satisfy your cravings by eating frozen yoghurt or smoothies.
Ice
While it might sound a little strange to those who have never experienced this craving, it is actually pretty common. However, experts suggest that ice cravings can actually be associated to an iron deficiency. Ice is not good for your teeth so try curb urges to chew ice by eating an ice pop.
Meat
If you are a vegetarian, you might be shocked to find your body caving meat. However, one of the reasons behind this could be the fact that your body is lacking in protein. If you are vegetarian try eating pumpkin seeds, quinoa or soy milk which are great sources of protein.
Remember to maintain a
healthy diet and exercise during pregnancy
and you'll be able satisfy any 'bold' cravings without guilt. If you do start to find they are getting out of hand and you can't seem to curb them, have a chat with your midwife who might be able to suggest alternatives.