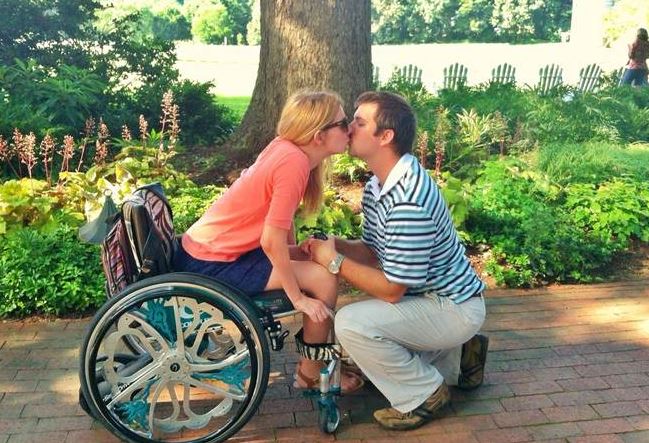 A woman who was paralysed at her Hen party has set her sights on becoming a mum.
Rachelle Friedman, from North Carolina in the US, had two major goals in life - get married at 24 and have a baby at 27.
However, as Rachelle's wedding approached in 2010, her friends threw her a Hen party where one of her bridesmaids playfully pushed her into a pool.
She fell in shallow water, broke her neck on the hard bottom and was paralysed from the chest down.
One year later, Rachelle made it down the aisle in a wheelchair as she married her devoted fiancé Chris Chapman.
Now, at 28, the blogger and motivational speaker said she hopes becoming a mum will soon be on her list of accomplishments.
"Chris and I have been doing really well together. It's just at this point we feel like something is missing," said Rachelle. "It feels like the last part to our happiness would just be having a family."
Rachelle said her "baby alarm clock" has been going off as she has watched her friends announce their pregnancies on Facebook.
While Rachelle is physically able to carry a child, she takes very strong medications to control her blood pressure and help her deal with pain, which may be harmful to her unborn child.
Rachelle said she still wants a biological child, so she's turning to surrogacy to make that happen.
To get help with the high cost of the process, she's set up an online fundraising campaign for family and friends who want to contribute.
"I have quadriplegic friends who raise kids, who get their kids dressed, who change their diapers, so I'm going to be able to do that, too," she said.
"We do want a girl, but anything healthy would be a miracle," Rachelle added.