Barbie princess birthday cake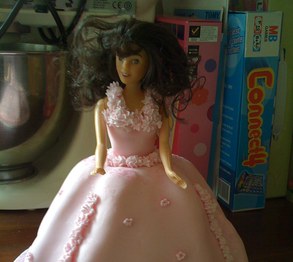 Description:

Every little girl loves to feel like a princess on her birthday so why not make her day with this Barbie princess birthday cake!

Main ingredients:

Ingredients:

For the sponge:

225g unsalted butter, very soft

225g caster sugar

1 tsp vanilla extract

4 large eggs

250g self raising flour

1 tsp baking powder

3-4 tbsp milk

Butter icing:

160g unsalted butter, softened

500g icing sugar, sifted

50ml milk

A few drops of vanilla extract

Decoration:

1 kg white ready to roll icing

Pink food colouring

Equipment:

1 x doll cake tin with heat conductor rod (available from any baking speciality shops)

1 x doll pick (available from any baking speciality shops)

| | |
| --- | --- |
| Serves: | 10-12 |
| Preparation Time: | 25 minutes |
| Cooking Time: | 45 minutes |
| Recipe Type: | Party Food, Cakes & Baking, Kids Food |
| Special Info | Nut free, Vegetarian |
| Level of Difficulty: | Easy |
Method:
Preheat the oven to 170°C. This sponge couldn't be easier as all you do is pop all the ingredients (except the milk) into the food processor and mix until you have a smooth batter. Then, while continuing to pulse, pour the milk a little at a time through the funnel until your mixture has a soft texture. Using a spatula, pour the mixture into the doll cake tin, making sure the heat conductor rod is in place and bake for 45-50 minutes or until a skewer inserted in the middle of the cake comes out clean. If you are just using a pudding bowl to bake cake, you may need a little longer as the middle may be under cooked. Leave the cake in the tin to cool for about 10 minutes and then carefully remove, loosen edges with a knife and leave to cool on a wire rack before decorating. Remove the heat conductor rod so that you have a hole for the doll in the centre of the cake. Once cooled place on a 16 inch round silver cake base.

Make the buttercream. Cream the butter and sifted ice sugar in an electric mixer and add a few drops of vanilla essence. Mix the milk and vanilla essence in a separate bowl and add to the butter mixture a couple of tablespoons at a time. Once all the milk has been added, turn the mixer up to high speed and beat until the icing is soft and fluffy. This will take about five minutes. Don't skip this step as the longer you beat the softer your icing will become. Cut the dome shaped cake carefully in either 2 or 3 layers and sandwich these layers together with the butter icing. Then cover the cake completely with the icing. You will need to hold a little icing back to pipe the top of the doll's dress and for decoration.

Use the pink food colouring to colour the ready roll icing and roll out into a large circle (about 18 inches) in diameter and then lay the icing over the cake so it hangs down in pleats to look like a dress. Place the doll rod in the centre of the cake.

Colour the remaining buttercream icing with a few drops of pink food colouring and mix well. Place icing in a piping bag with a star nozzle and pipe around the base of the dress and the top of the Barbie to create the bust of the dress. You can also pipe pleats into the dress. Finish by decorating the dress with coloured dragèes, iced flowers or sprinkles if you wish.












Find more
| | |
| --- | --- |
| Similar Recipes | Related Recipes |