If your child's birthday is fast approaching, you're probably planning on throwing a wonderful party for them and all of their friends. Once your tot gets a little bit older, it can feel like you're running out of ideas on what theme to choose for them. You've already covered cartoons like Paw Patrol and Cocomelon, and characters like Marvel superheroes or Disney princesses, so where do you go from here?
Well, we're here to help and have come up with 25 marvellous party theme ideas for your child that are unique and easy to create. Whether you're having a get-together at home or are booking a room somewhere for them, with a few decorations and a dress code, you'll be able to host a birthday party they won't forget for years to come.
These themes will work for a broad range of ages from toddlers up until primary school age, so depending on how old your child is and what their interests are, you're bound to find an excellent idea for their next birthday party below!
Rainbow: Get each guest to dress in a colour of the rainbow and use different coloured foods so children can eat a rainbow too.
Art: Grab lots of paper, paints, pom poms and non-toxic glue as you host an art party! Let each child create their own individual masterpiece or demonstrate a craft for the children to make themselves.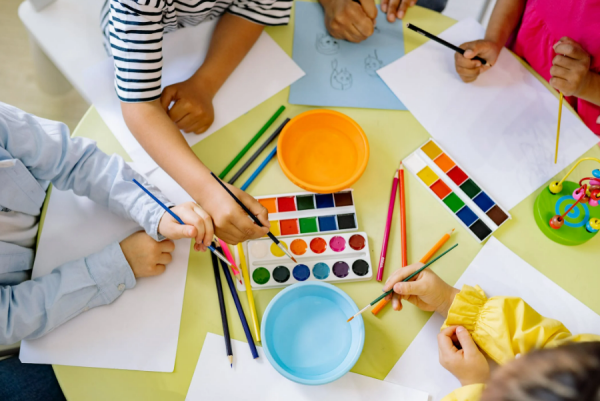 Beach: If your child's birthday is in the summer but you don't live near a beach, bring the beach to your home! Bags of sand are cheap to buy and we all have buckets and spades laying around from previous sunny holidays! If you really want to splash out, get an outdoor pool for the guests to paddle in, just don't leave the children unattended near water.
Dinosaur: If your child is dinosaur obsessed then why not create Jurassic World in your home? Grab face paints and test out your artistic skills on the guests, while you have the infamous movie or its soundtrack playing in the background.
Zoo: Get little ones to come dressed as their favourite zoo animal and host a competition for who can do the best impression of each creature. Pop an animal show on the TV for guests to have a look at too. You can set up a crafts station for children to make their own animal masks.
Jungle: Similar to the zoo idea, get guests to dress as their favourite jungle animal and set up plants as part of the decorations.
Camping: We don't have the weather for camping yet but why not give indoor camping a go? Set up a tent in your home and make s'mores with your child and their pals. Get them to sing campfire songs or even tell spooky stories.
Cinema: Get plenty of blankets and popcorn to create a cinema right at home. It works out cheaper than having to go out to the cinema and you don't need to worry about little ones making noise.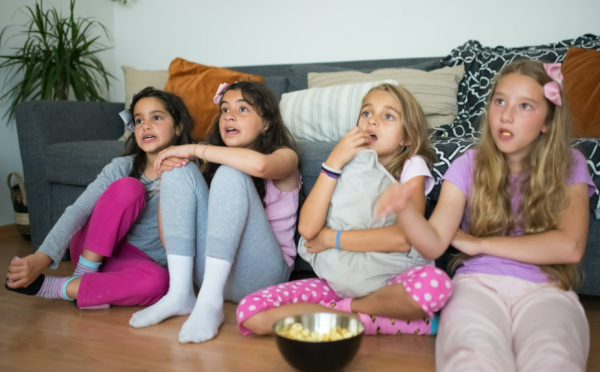 Ice-cream: All children love ice-cream, right? Stock up on your child's (and their friends') favourite flavours, along with cones, Flakes, sprinkles and syrups so they can make their ultimate ice-cream cone. You could even get an ice-cream cake instead of a regular cake to really stay on-theme.
Karaoke: Create a playlist of child-friendly songs on YouTube or Spotify and let guests sing along to the lyrics on-screen. You don't even need a karaoke machine. Best singer gets a prize and the parents can even join in on the fun!
Carnival: Set up games with hula hoops, bean bags or plastic bowling pins so your little ones and their friends can pretend to be at a carnival from your own house.
Mermaid: Does your child dream of being a mermaid? Throw them a whole party dedicated to being one! Get guests to dress up as mermaids and set up a painting station where they can paint shells or stones with pretty designs.
Scientist: If your child loves science, turn your home into a lab for experiments. Let children have a go at fun science projects. We have some great ideas here.
Tea party: We're not saying to serve tea to a group of children, but create the fun feeling of a tea party, similar to Alice in Wonderland. Make little sandwiches cut up small and bite-sized cakes for party-goers to enjoy.
Pirate: Have guests dress up as a pirate and hide 'loot' in your house for them to find. Chocolate coins are a great alternative to gold!
Circus: Be a circus ringleader for the day and create a circus-themed party with simple items you probably already have at home. A pop-up tent, ballpit, hula hoops and skipping ropes can all be used to get party-goers' imaginations to go wild. Have candy floss to snack on too so it's like a real trip to the circus. There are plenty of videos on YouTube to create that circus atmosphere too.
Favourite character: Every child has their own favourite character from a cartoon or book so ask each guest to come dressed as whoever they like the most. You'll have a big mash-up of characters to create some great photographs to look back on.
Cooking/ baking party: If you have a budding chef or baker on your hands, invite their friends over and make something delicious together. Find a simple recipe for them to follow as you show them how to make a tasty treat like cookies or brownies.
Under the sea: Set up blue blankets or tissue paper around the room to create a nautical effect. Add buckets, spades, umbrellas and shells for extra decor. Let the children draw or paint their own little fish on paper and have Finding Nemo playing in the background.
Picnic: Set up a large picnic blanket in your garden if the weather allows, or inside to make a teddy bear's picnic indoors. Have yummy sandwiches and sweet treats as the guest colour in bear pictures that you can print out online or draw yourself!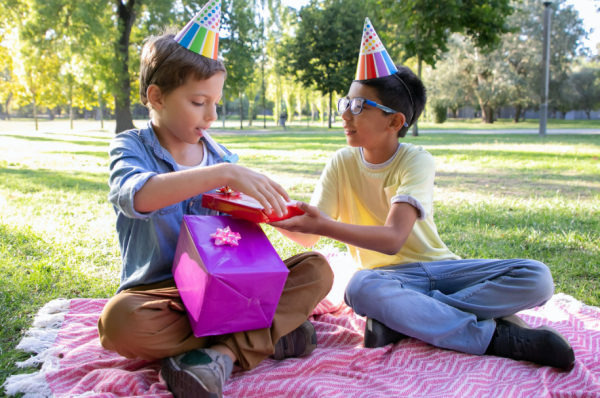 Pyjama: Suitable for every age, a pyjama party is a great idea for children to enjoy a movie night or a pamper evening, complete with painting nails and plaiting hair.
Willy Wonka's Chocolate Factory: Turn your home into a real-life chocolate factory with chocolate bars, chocolate cake and chocolate-covered strawberries. The younger children may have a sugar crash but enjoying chocolatey goodness is worth it for one day right?
Scavenger hunt: Hide prizes around your home for children to try and find. Make a list with the name of the time or a picture of it to help younger children find what they're looking for. Time it to make it extra challenging.
Tie-dye party: Perfect for a summer birthday, buy white socks and t-shirts or get guests to bring their own. Tie-dying kits are really affordable to purchase and everyone gets something to bring home with them to remember their pal's birthday.
Space: Paint big planets on round pieces of cardboard and stick them to your walls. Keep the room dim like the night's sky and let party-goers pretend to be astronauts for the day.