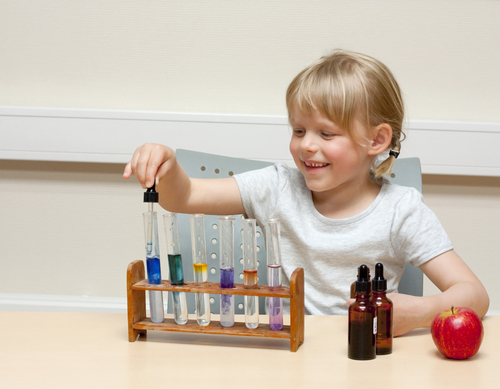 Science not only teaches children important things about life, it is also fun. Here are six fun at-home experiments you can do with your child:
Secret ink
All you need is a bowl of lemon juice, a paintbrush, some paper and a candle. Get your child to dip the paintbrush into the lemon and write or draw something on the paper. When the page is dry hold it over the candle and watch the secret message appear. Make sure you supervise your kids when the candle is lit.
Volcanic explosion
You should probably do this one outside. All you need is a mound of dirt, red food colouring, vinegar, baking soda and washing up liquid. Mix all your ingredients together in a bowl but don't add the vinegar yet. When you are ready, add the vinegar and stand back for the frothy explosion.
Static electricity
This is great to show your kids the power of static electricity. All you need is a blown-up balloon. Simply rub the balloon on your hair and hold it up. The static electricity will cause your hair to stand on ends. Do the same again but put it up to the ceiling and watch the balloon stick to it.
Paint with crayons
Show your child the power of heat with this fun experiment. Secure crayons to a large sheet of paper. Blast the hairdryer on the crayons and watch the colours melt out of them.
Flower dye
This is great for showing your child how a flower absorbs water. All you need is a jar of water, some food colouring and a white flower. Simply put the flower into the jar and watch the colour slowly seep right up to the petals.
The power of air
All you need is an uncooked potato and a straw. Get your child to try to stab the potato with the straw but when it doesn't go through tell them to cover the top of the straw with their thumb, trapping the air inside, and try again. The straw should have enough power now to pierce the potato.
Before you start the experiment, explain to your child what you are going to do and ask them what they think will happen. Encourage your youngster to talk about what they have seen and to ask lots of questions.