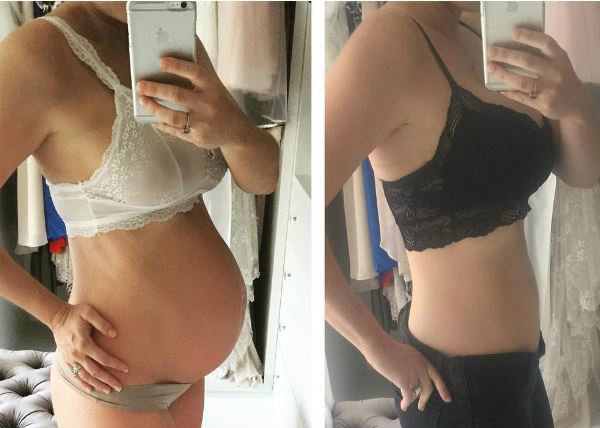 She gave birth to her adorable daughter Indigo just TWO weeks ago - but there's no doubt that former Apprentice star Luisa Zissman has very much bounced back already.
The 29-year-old - who also has a six-year-old daughter, Dixie - showed off her incredibly flat stomach earlier today on Instagram.
"2 weeks ago vs this morning. Surprised at how quickly my stomach has gone down. I gained 2st with this pregnancy & have 7lbs to lose now," she wrote addressing her 416,000 followers.
"With Dixie I gained 4st! having been very fit before I got pregnant was a massive bonus in my recovery I think. Skin is still loose & can't wait to tone up but on the whole pretty pleased with how belly is looking.
"Have no core strength which I realised after trying to ride my horse last week. I did NO exercise throughout my pregnancy due to my hips & pelvis being in agony, and I ate well but didn't deny myself anything."
She went on to state that "as soon as doc signs me off," she'll be getting fit "doing Pilates & yoga and of course my beloved horse riding".
Luisa concluded: "Will share my progress here with the other mummas who are interested to see."
Plenty of fans rushed to congratulate Ms Zissman on her appearance - with some citing her as an inspiration.
"This makes me so happy! I'm 4 months with my first and have been so down about how I'll end up looking!" wrote one Instagram user. "I've only gained a couple of pounds so far so fingers crossed! Look forward to watching your progress."
The reality TV star and entrepreneur is married to Dublin millionaire Andrew Collins - he popped the question in Paris two years ago and they married last year in a low-key ceremony in Ireland.
SHARE if you think Luisa's stomach is pretty incredible