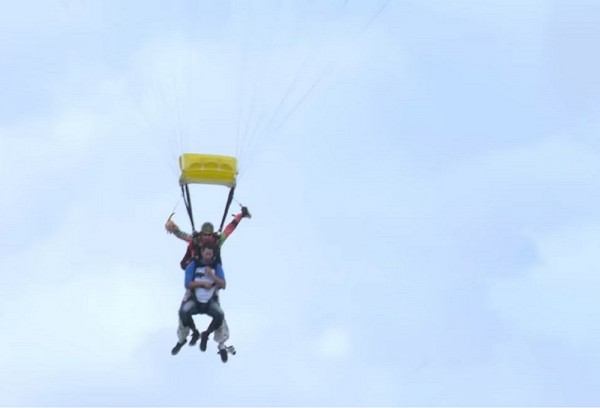 Each and every baby is a unique little miracle, and we just love when parents dream up a suitably special gender reveal for them and their loved ones. You can imagine how much we loved the Garcia clan's latest project, then.
US couple Molly and Jaren Garcia are the proud parents of two children, and the high school sweethearts were recently delighted when they found out they were expecting their third child. As this their last child (so they insist), they wanted to do something very special to announce the gender to their family and friends.
Jaren has always wanted to do a skydive, so he decided to incorporate his bucket list into the gender reveal, organising for a special reveal from 17,000 feet up in the air. The plan was, either blue (for a boy) or purple (for a girl) smoke would be released into the air, while a blue or pink parachute would emerge from Jaren's pack.
With family and friends gathering in a large field, Jaren flew up into the air in a helicopter, then dove out of the plane to reveal the gender. We're not going to spoil it for you – suffice to say that it is definitely worth a watch, to find out whether it's a boy or a girl, for yourself.
Uploading a video of the big reveal to YouTube, a delighted Jaren wrote: "The tie-breaker is here! The gender reveal you all have been waiting for! What better way to reveal the gender of our last kiddo than to jump out of a plane!
"Look for the smoke – it's going to be epic!"
The video has already gone down a treat online, garnering over 120,000 views in just a matter of days. As you can imagine, viewers were also quick to share their messages of love and congratulations to the family.
This is certainly an inspiring idea for a gender reveal. If you're looking for something a little less extreme though, an adorable cake or balloon reveal is just as sweet – and you won't need to brace yourself or work on your fear of heights!
What do you think of the gender reveal phenomenon? Would you ever be tempted to try out the Garcia family's idea? Let us know what your dream gender reveal would entail.