Earning my parenting L plates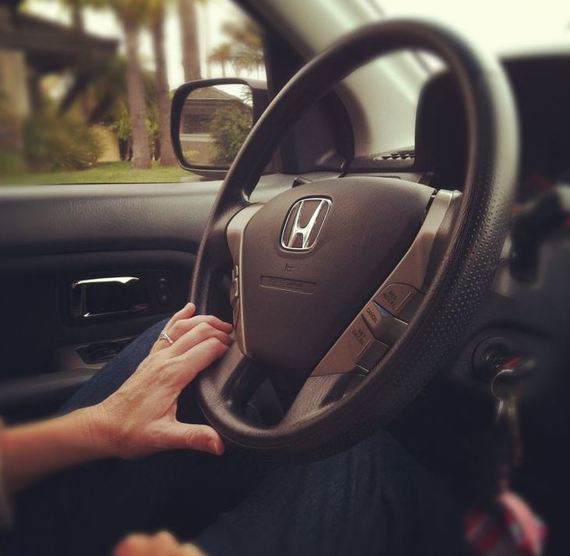 Surely when Son No. 2 is 21 and about to embark on his final year in college, my tribulations with himself are over. He's now an independent adult, isn't he?
Well, that's what I'd thought until just recently.
He works on the weekends and during the holidays and provides for himself now in every respect. But then the L plate went up in my wee Polo. Oh dear, I had no idea what lay ahead and what is currently upon me!
The eldest boy learned to drive with his cousin on a farm, took a few lessons near his driving test, passed and never looked back. Now driving his BMW, I had no idea there was so much involved when assisting one's offspring to drive.
The current L driver took a number of driving lessons and then decided (with my permission) to insure himself on my car. He is pretty laid back and easy going so we get along just fine; that is until we get into the wee Polo and he's behind the steering wheel.
I spend most of my working days encouraging people to use the English language in the correct way. Now I'm finding myself using vocabulary I didn't know existed. I'm using vocabulary which I certainly wouldn't tolerate from another human being. I'm using vocabulary I'd punish my boys for using. Heck, I'm even inventing new swear words!
Nothing prepares you as a parent for getting into the passenger seat of your own wee car with your L driver child sitting next to you behind the steering wheel. Nothing prepared me, that's for sure!
So as we get ready for yet another mother/son driving expedition, the nerves are in the tummy, the spine is chilling, and the imaginary brake is in place and ready to go! I'll be braking at the sign of a car 500 yards in front; I'll be braking 500 yards before all oncoming junctions and I'll be braking for dear life as we drive through the local village.
Ah bless his wee cotton socks. I must praise him for being so dedicated to getting his full licence before finishing college next June. I'm sure as the next month goes by, I may well be able to lose the imaginary brake (fingers crossed) and I may even sit back and enjoy the spin.
It's been one of those parenting experiences I hadn't prepared for. But for now I must put the brake on the onslaught of unworthy vocabulary that is about to flow from my very being and tighten my grasp on the door handle. Here goes one more time. Vroom vroom to this new parenting experience.
Grainne McCool is a mum to three boys from Co. Donegal, who thinks parenting is a learning process in which you're never done learning.
Image via Pinterest