Family pizza recipe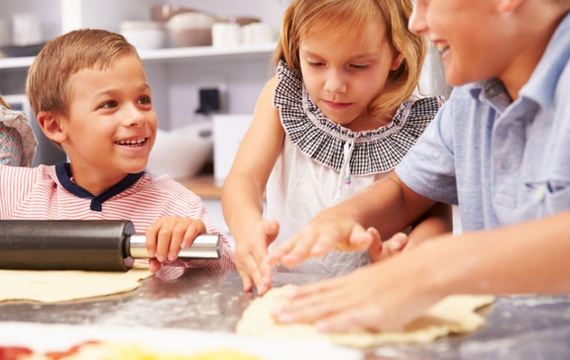 One of the things I never really thought about before I became a mum was family dinners.
When you are just feeding yourself and you're running in from work you're able to literally chuck something in the oven and get on with it.
But it's different when you've got kids. Not only do you have to think about what you're going to cook, but whether the little ones are going to turn their noses up at it or not. You've also got that new parent guilt of making sure it's 'healthy'.
I'm not rolling my eyes (well, maybe a bit) but it can be difficult to create a meal that suits the whole family, is quick and easy to make and actually provides all the necessary nutrients.
But I've found something that works in our house, at least!
We sometimes cook quiche, fishcakes or casserole...and my kids demolish roast chicken and really like stir fry with beef and vegetables, but the biggest hit of all with them at dinnertime is pizza.
I know what you're thinking - but it's freshly made with homemade pizza dough. And of course it comes with the added bonus of being able to involve the kids in the cooking and preparing process and makes vegetables fun.
Yes, I did say those two words in the same sentence!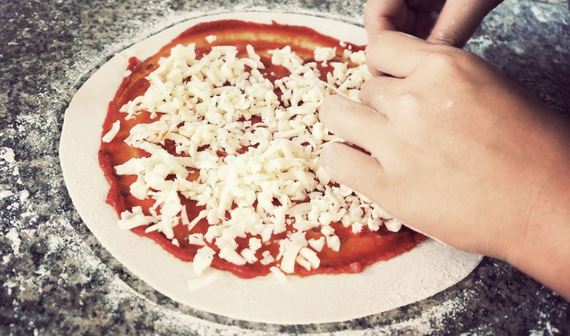 Sometimes my kids would turn their noses up at red peppers or onion, but whack it on a pizza and it suddenly becomes an extremely appetising food!
I'm always going on about what a great cook my other half is...and this is his recipe for pizza dough, but even I can manage it and I'm pretty useless in the kitchen.
So give it a try if you like, it only takes about 20 minutes to prepare and cook in total, with some quick dough prep when you come in from work/collecting the kids from school.
If I can do it, literally anyone can!
For the dough:
750g strong white bread flour
500ml warm water
7g packet of yeast
Tablespoon of sugar
Teaspoon of salt

For the topping:

(any choice of your own is great, these are some of the toppings we use)

Tomato puree
Cheddar cheese grated
Pepperoni or salami, sliced
Red onion, sliced
Red, green or yellow peppers
Sweetcorn
Mushrooms (sliced)
Tomatoes
Pineapple
Ham
The list goes on....only your imagination will hold you back!
Method:
1. Preheat the oven to 200°C / 400
°F/ Gas Mark 6. Dust a baking tray with a little flour. 
2. Add the yeast, sugar and salt into the warm water.
3. Mix well, cover and leave for at least 1 hour.
4. Add this mixture to the flour and mix with your hands to knead it into dough.
5. Split the dough into 4 evenly sized balls and place them onto a lightly floured tray.
6. Cover with a tea towel and let prove for about an hour. Next, roll each one out until it is a circle shape about the size of a dinner plate.
7. Don't add any toppings yet.
8. Bake the pizza bases in a preheated oven for 2 mins (stops them going soggy) then remove and add the toppings.
9. Return to the oven for 8-10 mins.
Enjoy!
Emma Kelly is a Belfast-based mum of two little ones, an English teacher by trade and a blogger at Amelia's Mum. Life is currently a happy juggle of nappies, toddler fun, constant dieting and the (more than) occasional glass of wine!