Husbands and dishwasher drama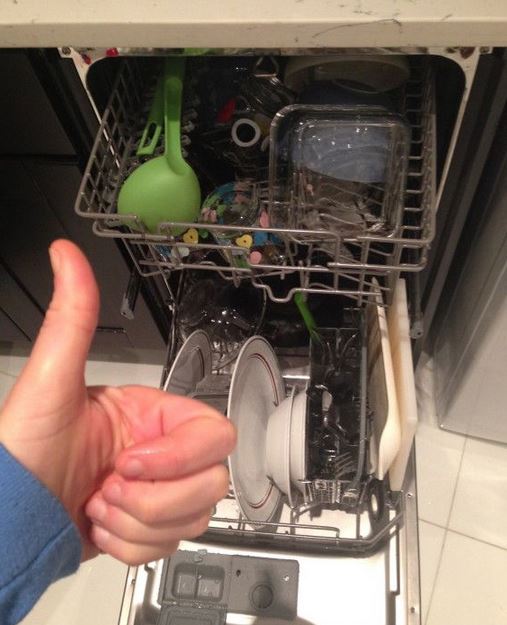 Having conducted a (not very) scientific study amongst my friends, it turns out that ALL of our husbands are insane. Actually insane.
This is a worrying development. All of the men in question are in full-time employment; lawyers, doctors, administrators, even teachers who have regular contact with children.
The study came about after we noticed some common behavioural attributes in the men, and after a detailed discussion, surveillance over a ten-year period, in some cases, and covert filming, which may or may not end up on YouTube, we have come to the conclusion that they are, without exception, insane.
We are basing our findings on the quotation attributed to Albert Einstein: "the definition of insanity is doing the same thing over and over again, but expecting different results." Albert was referring to other scientists' work, but I'm sure you'll agree that the theory also applies here, and with a weighty name like his associated with it, it must be true.
Our study was almost thwarted in its infancy by an old wives' tale spun to us by our mothers; that men do certain things badly on purpose so as to avoid being asked to do them again.
Of course for years, we as women have taken the approach that if we persist with our instructions, or perhaps SHOUT THEM A LITTLE LOUDER, eventually we can teach these poor males of lesser intelligence something, improving the outcome for everyone. But this approach, it has become apparent, has failed us, and even Trinity College would agree that an aggregated 100+ years of even the most rudimentary testing and analysis consistently showing the same results has to stand for something.
So there it is. The shocking truth. Our husbands are not lazy. They are not stupid, or imbecilic, or defective as we might have once suspected. They are not trying to annoy us, or purposefully attempting to shirk their duties. No. Einstein confirmed it, and I'll bet anything his wife Elsa would have corroborated it had she lived in our times.
They are insane. THAT'S why they are unable to load a dishwasher properly. QED.
Image via Pinterest