I realised this woman's child was bullying me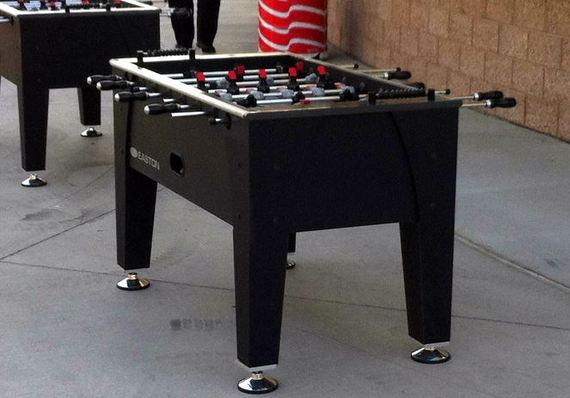 The old adage that 'the apple doesn't fall far from the tree' is so true. It was brought home to me the other day when I was falsely accused by another mother of pushing her child.
It was a wet and windy Sunday morning and I had taken my three children to an indoor play centre to get them out of the house for a couple of hours. They were having a great time and I had even got to read part of my newspaper when The Bruiser (4) asked me to play a game of table football with him – the one where you twist the handles to make the little players kick the ball.
We put our coins into the machine and were playing away when a small boy, aged about three or four, walked up to me, began to shove me away from the table and then tried to push my hand off the handle it was on. I gently said "No, we're just in the middle of a game" and lifted his hand off mine. He kept shoving against me and trying to push my hand off the handle.
A woman, who I assume was his mother, called him twice but he ignored her and kept pushing me. Once again, I took his hand off mine and said "we're nearly finished our game". Eventually, when I refused to give in to him having decided to stand my ground, his mother came over.
I fully expected her to apologise for his bad behaviour and chastise him but instead she turned on me snapping, "there's no need to push him, he's only a child' and storming off with him. I was so shocked that all I could do was stand there and say "I didn't push him". Even though I was shaking inside and puce red on the outside, I forced myself to finish the game with The Bruiser.
We had to walk past the table where the mother sat with a group of family or friends throwing daggers at me. It was horrible, all I wanted to do was leave but I stayed for another half hour because my children were having fun and we had done nothing wrong.
If it had been the other way round and I saw The Bruiser push another adult and behave the way that child had, I would have been mortified. I would have apologised immediately, taken him away from the table and given him a good talking to. Instead of doing this, the boy's mother chose to completely ignore the fact that her son was acting like a little bully and acted like a big bully herself. No surprise really that he behaves the way he does; you can't blame the child.
As William Wordsworth puts it in the poem My Heart Leaps Up, 'the child is father of the man'. We are all products of the values instilled in us by our parents and teachers, as well as the habits and behaviours we learn in childhood. Or don't.
Michelle McDonagh is a freelance journalist working from Blarney, Co Cork. She's a mum of three children aged 2, 4 and 5, and a firm believer in 'good enough' parenting, bribery and the healing powers of chocolate.
Image via Pinterest