Kids at a wedding…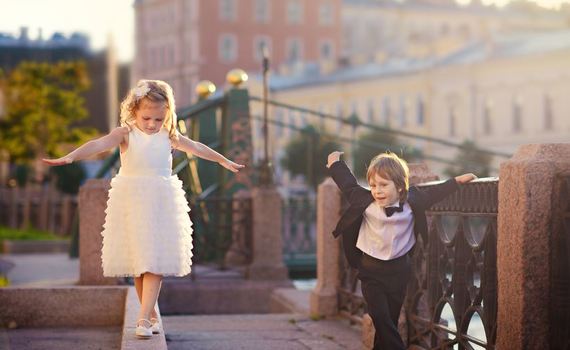 How on earth do you teach your child how to behave at a wedding?
You don't want to be the only parent whose child makes a scene, causes disruption, or God forbid, does something embarrassing in the church.
What could be embarrassing, you might ask?
One word.
Flatulence.
Yes, my daughter, the apple of my eye, the light of my life who was dressed to perfection, came walking down the aisle looking like a beautiful cheruby-angelic-child in her flower girl dress at my brother's wedding recently.
Everyone 'oohed' and 'ahhed' appropriately and she smiled and walked properly (even though some of her 'practice walks' had been a tad dodgy) she made me very proud.
We had everything planned.
We had a variety of snacks (ones that didn't stain, obviously) ready in her little backpack – raisins, crackers and water etc, and we had her 'isolation booth' all prepared too – which involved the iPad (other tablets are available), a pair of child sized headphones, and many, many episodes of My Little Pony loaded up and ready to go.
It worked SO well.
For about 15 minutes.
She was quiet, munching away on her raisins, watching Twilight Sparkle and Pinkie getting up to their old tricks in Equestria when….
Yep. She farted.
Really loudly.
In a quiet church.
Then as if she understood the comic value of the whole thing, looked up at me and said "PARDON ME!!" really, REALLY loudly because she had her headphones on.
I could have gone red, I could have cried or shouted at her but it was simply just too funny.
I laughed. My husband laughed. Everyone within the vicinity of the sound laughed.
Thankfully there was no smell….
And the bride and groom carried on, blissful and oblivious to the comedy playing out in the pews.
Aside from that though, kids at a wedding can be hit and miss! Most people love the whole family atmosphere that kids bring to weddings but it's not my cup of tea to be honest. I was very proud of my daughter for doing her best on the day and despite being the only child there that day she behaved very well, and of course her Aunty C, the bride, had a lovely little goodie bag of fun games and treats to keep her occupied during the speeches.
Part of me can't wait for her to get to be the bride herself so her Dad can tell this story in his speech and embarrass the life out of her!
Emma Kelly is a Belfast-based mum of two little ones, an English teacher by trade and a blogger at Amelia's Mum. Life is currently a happy juggle of nappies, toddler fun, constant dieting and the (more than) occasional glass of wine!