MasterChef minis and scrutinised mums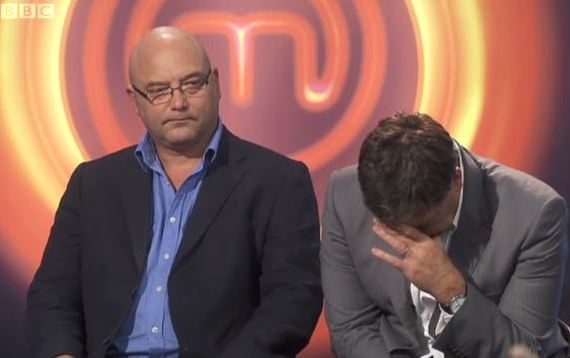 It's difficult to find a TV programme that the whole family likes to watch when tastes range from Love/Hate to Peppa Pig, so it's great when one comes along that we can all snuggle up on the couch in front of. The one show that gets everyone excited in my house at the moment is MasterChef.
You'd be forgiven for thinking that hardcore competitive cookery might not be at the top of a seven-year-old boy's TV list, but you'd be wrong. When most boys his age have posters of Marvel Heroes on their walls, and a fairly accurate knowledge of every bug and bodily fluid Bear Grylls has ingested, our fellah's pin-up du jour is Marcus Wareing. And you can keep your Bake-Offs and celebrity chef-for-the-day programmes too – no, no. Our lad is only interested in the real deal, where the contestants are experts, the judges are Michelin-starred and the critics are fat and mean. Edge-of-your-seat viewing, culinary style. 
It's emotional too - we get more invested in the MasterChef contestants than we ever did in X-Factor warblers.  In our house, we all have our own favourites, and have been known to shout at the telly when our chef makes a silly mistake.  This might be normal behaviour when it comes to watching competitive team sports, but it's not every day you hear a seven-year-old castigate a grown man in an apron with the words "I can't believe you're doing a soufflé.  It's the final, for God's sake!"  And I'm a little unsure what Santa Claus is going to say when he sees "NutriBullet" on the wish list that's already been posted to the North Pole.
But MasterChef makes for a great hour's entertainment, and it's educational. I certainly didn't know what sous-vide was when I was seven. And should my kids ever be brought to a fancy restaurant, they won't be stumped by samphire or confused at a croque-en-bouche.
Of course there is one down-side. Having exposed a world of fine-dining to them, my children now deem themselves culinary proficients and qualified critics of all things that emerge from Mammy's kitchen. I've had to up my game. But at least if I'm having an off-day, I can still resort to frozen pizza and chips, and my little patrons leave the table happy.
I bet Marcus Wareing can't say that.
Sheena Lambert is the mum of two boys from Dublin. Her novel Alberta Clipper is available from Amazon.