No shame in a caesarean section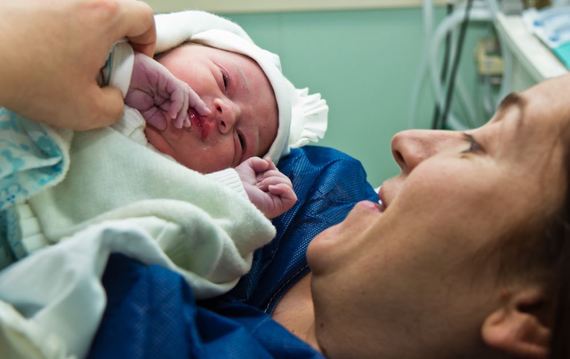 I was recently chatting to a few mummy friends on social media, and the conversation turned to caesareans - what with April being C-section awareness month and all.
Someone shared a blog post about the different (and totally unacceptable) things people have said to women who had their babies delivered by section.
It made me recall something that happened to me shortly after I had my second baby, who was also born by caesarean. I don't tend to share my deeply personal, graphic and borderline gross birth details online, but suffice to say there were several reasons that both my children were born by section – and, actually, even as I type this I'm realising that I'm about to fall into that trap…
…of having to justify it.
And of course, anyone with a jot of sense knows that I don't have to justify it. No-one should. Why on EARTH should you have to EXPLAIN to ANYONE why your children were born in a certain way? But, unfortunately, there are a small minority out there in this world who judge a woman if she hasn't had a vaginal birth.
What's even sadder is that some of those people are medical professionals. People who really should know better.
I can almost forgive the ignorance and inane comments of those people who, to put it quite simply are downright stupid and should mind their own business, but I find it hard to swallow those moments when qualified medical doctors make similar comments.
About a week or so after my second C-section, I was suffering terrible pain at my wound (which turned out to be a hematoma – if you've ever had one I don't need to explain the horrendous pain) and I called the out of hours doctor to request stronger pain relief. Soon after this, I was brought back to the maternity to have the hematoma treated, so I must have known deep down that there was some sort of complication, but at this stage I simply wanted a better painkiller.
I called the out of hours line and was put through to what sounded like an older, experienced doctor.
I explained my circumstances post C-section and current level of pain.
What were his words, you ask? I genuinely thought that this was just a media-coined phrase. I didn't think anyone, let alone a doctor would actually use it.
"Too posh to push, were you?"
Yes, he actually said it.
It was one of those moments when you're so stunned by someone else's behaviour or comment that you simply let it pass and before you know it the moment is over and you can't verbally retaliate. After I hung up the phone I thought to myself, "Did he really just say that?" I'm ashamed to say, that, for the briefest of moments, I felt that he might have been right and I was one of 'those women'.
He actually made me think that. I felt disgusted with myself for letting him.
But then I realised… 'those women' don't exist. At all. They are fiction. Every single woman has her own personal birth experience, and the survival of mum and safe delivery of baby can sometimes depend on the amazing advances of medicine; the clever, careful and incredibly serious procedure of a C-section.
No-one takes it lightly. The recovery is slow, painful and difficult.
Some women feel they miss out on a vaginal delivery (understandably), but I'd bet my bottom dollar that now every single one of them only cares about the fact that their baby arrived, safe and sound.
And that's all that matters.
Emma Kelly is a Belfast-based mum of two little ones, an English teacher by trade and a blogger at Amelia's Mum. Life is currently a happy juggle of nappies, toddler fun, constant dieting and the (more than) occasional glass of wine!