Sartorial spring clean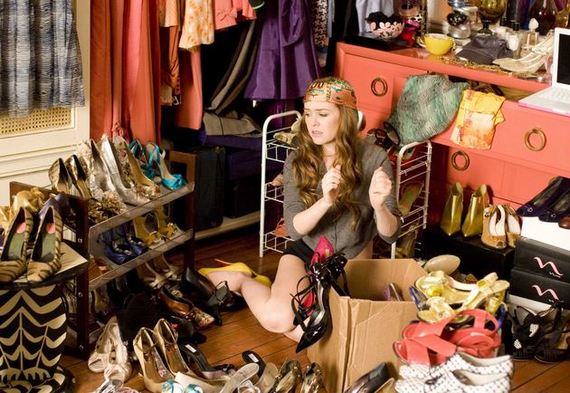 Back before I had kids, I used to do a fairly regular stock-take of my wardrobe. Around this time of year, for example, I would pack away my winter boots and heavy jumpers and jackets, leaving them wrapped, cleaned and ready for the next autumn.
Anything that hadn't been worn all season, I would donate to the fight against breast cancer. I had the time back then to check for items that needed a little attention, to sew on a button, to drop stilettos in to the nice little man on the main street for heeling. I had lavender-scented lining paper in my lingerie drawer back then. I had lingerie back then.
Ten years later, it struck me that I hadn't done a spring clean of my wardrobe in some time. Possibly ten years. The catalyst was finding what I thought was a tampon in my knicker drawer, only to realise that it was a pair of disposable, hospital issue pants given to me at the birth of my first child. Terrified at the idea of what else might be in there, I decided to tackle it head-on, bin bag in one hand, Save the Children sack in the other.
The process was cathartic, if a little depressing. From an average sized wardrobe, I extracted approximately one large drawer of clothes I actually wear. The rest was comprised of faded t-shirts that my mother wouldn't deign to use as dusters, eight pairs of over the knee socks (?), a small drawer's worth of ten-year-old flesh-coloured tights, bras that I owned pre-children (too small), bras that I owned while pregnant (too big), bras that I owned while breast-feeding (dear God what are they still doing in there) and matching knickers for all said bras.
But I also found that close to fifty percent of my wardrobe is occupied by beautiful garments – my dressing-up stuff from back when I used to have stuff to dress up for – and I couldn't cull any of it. Each precious piece had such memories wrapped up inside the dry-cleaners plastic cover, of weddings, christenings, balls – each item a joy to gaze at, like little pieces of art hanging in my room for my pleasure.
Who knows, maybe I will wear them again someday. I like the idea of the kids coming home to Mammy making dinner in a full-length ball gown and heels. Something to tell their shrinks.
Image via Pinterest