The miracle solution that gets my son to try new things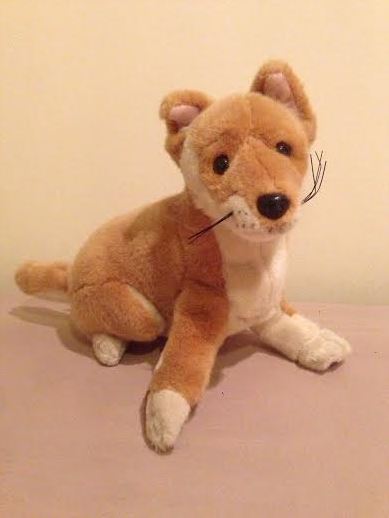 This morning I watched my three year old son get so excited when he received postcards from his 'friend' Darcy in Australia. As I read them to him he was engrossed in learning all about the new things Darcy got up to.
So what's so special about Darcy? Darcy is a cuddly Dingo and a friend of my brother in Australia. My brother has been living there since September 2007 and the last time he was home was March 2009 for my wedding. Since then his nephew and niece have been born and he has yet to meet them in person.
My son was born in 2011 and as he got older and full of chat he would talk to my brother on the phone telling him about his pals Bluey and Larry. My brother enjoyed these conversations and still does! A friend of my brother introduced him to a mobile phone app where you could send postcards with your own images on them and with that was the birth of Darcy, the loveable and cuddly Dingo!
My son was two when the postcards began to arrive and while he didn't understand it at the time he loved looking at the different images. Darcy has travelled to various parts of Australia, met new friends of both the human and cuddly varieties, and even showed us some tasty things he eats. The cards are sent on a regular basis and over the last year my son has grown more excited with their arrival.
Darcy has been helpful too in suggesting different things. When I was toilet training my son I was telling my brother about the trouble we were having. He asked if there was anything 'Darcy' could do and soon, with the help of a bit of cling film, a picture of Darcy sitting on the toilet was message to me! My son was thrilled to think Darcy was being toilet trained too!
I get such a kick out of it as I can be a sneaky mum and maybe suggest things that can encourage my son. He wasn't a fan of ham until Darcy ate some!
With the arrival of his sister in January last year, she has now become part of the stories. She's still a little young to understand but I've kept them all to show her Darcy's tales before her arrival.
My brother is one of my best friends so it was always important to me that he get to know my children, which is hard when he's half way around the world. With the creation of Darcy via postcards, messages and videos, he has made a fantastic connection with them both. I look forward to more tales from Darcy Down Under and look forward to when he can meet my children in the flesh!
Eimear Kelly has worked in hospitality and recruitment but considers becoming a stay-at-home mum to her two children, Logan and Elise, her best career move. Becoming a mum has inspired her to believe in herself and follow her dreams.