They were my family and there was no escaping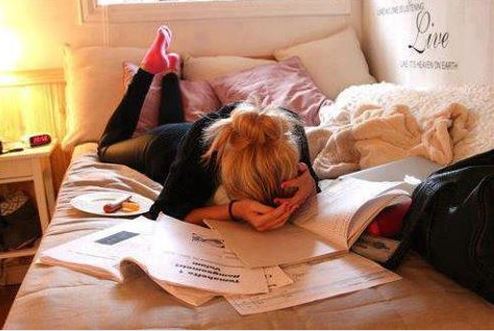 Someone said to me recently that a teacher has the easiest job in the world. I've never agreed with this assumption as I know just how much work is involved in teaching outside the classroom.
At the present time we are bang-smack in the middle of the Leaving Cert exams; the most stressful time a young person will go through academically. It's a time when their whole future depends on the outcome of this one set of exams. Points are paramount and getting the grade depends on what course of study awaits in September.
I don't have anyone for Leaving Cert this year…or so I thought. As a private English tutor I have worked with a number of students throughout the school year. But they weren't my children. Or were they?
We'd covered Othello, The Kings Speech, Catcher in the Rye, Eiléan NíChuilleanáin and many other works. I was satisfied last week on completion of my year's tuition and hung up my books until September. I wished the students the best of luck and asked them to let me know in August how they got on with results.
Nothing had prepared me for how I would feel yesterday afternoon at 2pm. I watched the clock straight through to 5.20pm. Would the female characters come up in Othello? Please God, let them be there, I yearned. Would theme or literary genre be on Comparative? Please God let them both be there, I yearned. Would Eiléan NíChuilleanáin be on the poetry section? Please God let her be there, I yearned. Suddenly I realised that I had a whole family sitting the exams. They may not have left my home that morning, but they were my family and there was no escaping.
When 5.30pm arrived and text after text began appearing, as well as a knock at my door, I realised that these kids are indeed just like family on this occasion. Each student I had worked with over the past year made contact immediately and gave me a complete run down of the paper. They were ecstatic. All of our prepared work had come up. We'd nailed it! I was so pleased for each of them.
I sat back and thought about the stress I had experienced that afternoon. It was equal to the stress I'd experienced each time my two eldest sons sat the Leaving Cert.
Many people believe teaching to be a 9 - 3 job with long holidays. It's everything but.
I don't work in the classroom and yet for every hour I tutor I spend three hours minimum in preparation. But what I discovered yesterday is that being in this position is not just a job. It's a vocation, just like parenting. For almost four hours yesterday afternoon I felt like a parent to each of my students. I was concerned about each and every one of them during that exam.
I sat back and took stock of what goes into the teaching profession. It's not just long hours behind the scenes preparing work. It's not just the long hours outside work marking papers. It's also the long hours being concerned for each and every student that the teacher is responsible for. It's a bit like parenting. You're on the job 24/7. Next time you think teaching is the easy profession, think again!
And last night I gave myself a pat on the back. Because I deserved it.
Grainne McCool is a mum to three boys from Co. Donegal, who thinks parenting is a learning process in which you're never done learning.
Image via Pinterest