Why won't he sleep?!?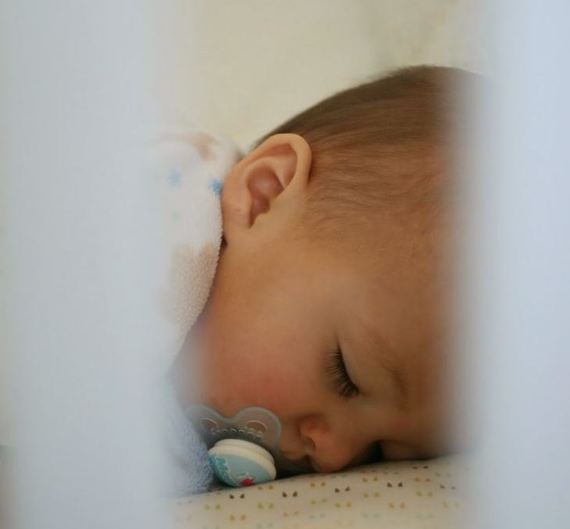 I was totally spoiled with my first baby. Five months, boom - she slept through the night and we never looked back.
I went back to work when she was six-months-old and luckily, never even imagined what other people had to deal with at night-time while juggling the demands of work also. I never experienced the gut wrenching, mind numbing, prop-your-eyes-open-with-matchsticks exhaustion that many parents of young babies have to contend with.
Until now…
10-months-old and he doesn't sleep through.
10 MONTHS.

ALMOST ONE. YEAR. OLD.
Help!
It might sound like I'm complaining, but I promise you I'm not. I'm so lucky to be going into his room at night, seeing his tousled hair, watching his chubby hands rub his sleepy eyes and picking him up to feel his cuddly, soft cheek next to mine. It's heaven, and I'm keenly aware that he won't be this little forever; I can't imagine him wanting cuddles when he is 16!
I relish the closeness, but forgive me, there are some nights when you are so tired, so exhausted that you pray to about 12 different gods (anyone who will listen, really) and beg that for just one night he would sleep through.
Most nights, he is asleep by 7.30pm and does a decent stretch to around midnight or sometimes even 3am, but never goes any further and always ends up in our bed. I know what some people might think - 'you're making a rod for your own back,' 'he'll never sleep alone,' etc – but I really don't care for those opinions since it means we all get back to sleep and get some rest.
One day he will be 21 and I won't even know which friend's (or God forbid – which girlfriend's) house he spent the night in, so, anything that gets him back to sleep is fine by me!
At the same time, very soon I think I'm going to have to face the music and try to get him to stay in the cot, but God knows how I will manage it! Is there anyone else out there with….zzzzzzzz……..*snort*……..zzzzzz
Oh, sorry – fell asleep there.
Is there anyone out there with the same problem? I hope I'm not the only one!
Emma Kelly is a Belfast-based mum of two little ones and an English teacher by trade. Life is currently a happy juggle of nappies, toddler fun, constant dieting and the (more than) occasional glass of wine!
Image via Pinterest