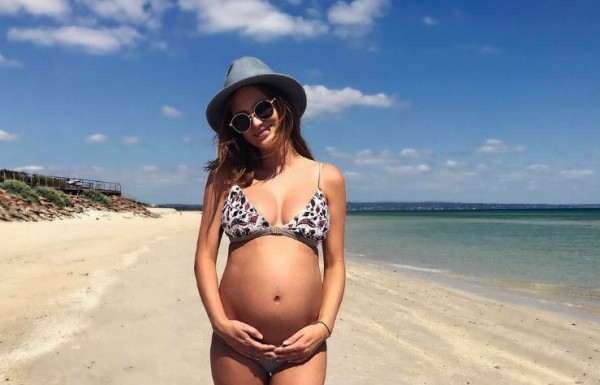 It's important to bear in mind that every woman experiences pregnancy in a different way.
Some get intense morning sickness, some breeze through the first trimester.
Some women find they have beautiful glowing skin and shiny hair while others face spots and lank hair.
Some pregnant women feel on top of the world, while others women experience tears and sadness.
And not everyone loves being pregnant, no matter how excited they are for the arrival of their baby.
Rhiannon Abrahams is one of those women.
Rhiannon, an Aussie influencer, said while she wanted to love being pregnant, the reality was much different.
She posted two Instagram photos of herself at 16 and 26 weeks pregnant, explaining how she felt about pregnancy.
"Honestly I don't 'love' being pregnant, all I want to say is 'oh I love it it's so beautiful!' ", Rhiannon wrote.
"But it just doesn't feel that way (please don't get me wrong, I feel so grateful and blessed I can get pregnant) and I want nothing more than to love it, but I just don't."
"I don't like the changes, the hormones, the pain, not feeling as independent", she explained.
Although Rhiannon was at first afraid to say how she felt because she thought it was "wrong" to feel that way, but after talking to other mums, she changed her mind.
Rhiannon realised that she wasn't the only one who felt that way and it didn't make her a "bad mum" to feel that way.
Now she wants to let other pregnant women know that it's ok to feel like this.
"If you are feeling this way, you are not alone, it's just not spoken about as much and all I'm doing now is sharing with you honestly about how I feel so hopefully other mums feel normal too", she wrote.
Although Rhiannon looks amazing in her photos, she has experienced some unpleasant pregnancy side-effects like all other women.
These aren't visible immediately but she also shared some up-close photos to show visible veins, spots and skin problems and stubble on her legs.
She said her body hair was growing back rapidly after she shaved and she sometimes wet herself a little when she sneezed.
There is one part of being pregnant that Rhiannon does enjoy and that's when she feels the baby kicking and moving.
She had been worried earlier in her pregnancy when she hadn't felt her baby move yet.
Like many first time mums, this concerned her initially.
"The only thing I love is the feeling of this baby, every time I feel a kick or movement it feels 100 per cent worth it all and makes me so happy!" she said.
We can sympathise with Rhiannon, pregnancy can be really tough sometimes.
We wish her all the best with the rest of her pregnancy and her baby.